Elevation: 8,614 ft
Prominence: 234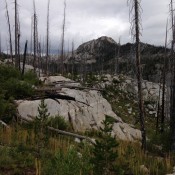 This peak is not in the book.
---
The area of the Western Salmon River Mountains known as the Lick Creek Range is a complicated mess of ridges, summits and drainages. Much of this area was once covered by dense forest but over the past couple of decades, the area has suffered large forest fires which have opened these granite mountains up for viewing.
The section of these mountains between Pearl Peak (Pearl Benchmark) and Beaverdam Peak is one of the most spectacular ridge lines opened to viewing by a forest fire. There are 5 points along this ridge that are great destinations for scramblers: Pearl Peak, Peak 8610 (Paintbrush Peak), Rain Peak, Peak 8614 (Burnside Peak or South Rain Peak) and Beaverdam Peak. USGS Box Lake
Burnside Peak is located 1.0 mile south of Rain Peak. The peak has slightly more than 200 feet of prominence between it and Rain Peak but, thanks to the distance and the rugged nature of the connecting ridge, it is clearly deserving of separate peak status.
East Ridge Route, Class 2-3
The East Ridge can be reached from several spots along Lick Creek Road or from the trail to Duck Lake [(B)(3)(c) on Page 136]. I recently climbed this peak with John Platt, Art, Carol and Tegan Troutner and Andrew Chiles, leaving the road at Lick Creek Summit. We took this route to the East Ridge rather than the easier Duck Lake approach to see new country for some of us and to revisit the country for John and Art.
Our route took us 5.8 miles round trip with 2,418 feet of elevation gain. The cross-country travel to the base of the East Ridge ate up a lot of time as we trudged up, down and around obstacles. The total moving time was only 3 hours but, between eating huckleberries and sitting on the summit, we used up 6 hours.
Mountain Range: Western Salmon River Mountains
Longitude: -115.951148 Latitude: 45.057096
Share this post ...