Elevation: 11,024 ft
Prominence: 444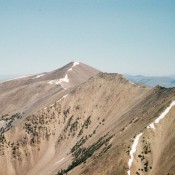 Climbing and access information for this peak is on Page 324 of the book. Please note that the book refers to the peak as "Cottonwood Mountain." The Idaho access updates found below are provided by Judi Steciak. Livingston Douglas provides the Montana access and route information. Updated November 2020
---
Cottonwood Benchmark and its neighbors, Jump Peak and Eighteenmile Peak, surround a beautiful high valley. It is possible to climb all three peaks in a day. USGS Cottonwood Creek
Idaho Access Update
Judi Steciak reports that access has changed for the Eighteenmile Peak and Jump Peak area. Please find below the 2011 BLM map for access to the Eighteenmile Wilderness Study Area in the Beaverhead Mountains. This replaces the (B)(6.1) Eighteenmile Creek Road description on Page 329 of the book and it avoids private property. We used this map with an Idaho back roads atlas and topographical maps. The road was re-graded in 2011 and is accessible to higher-clearance passenger vehicles. There are at least two outfitter camps in the Eighteenmile WSA during hunting season. Thanks to Judi Steciak and Carl Hamke for this update.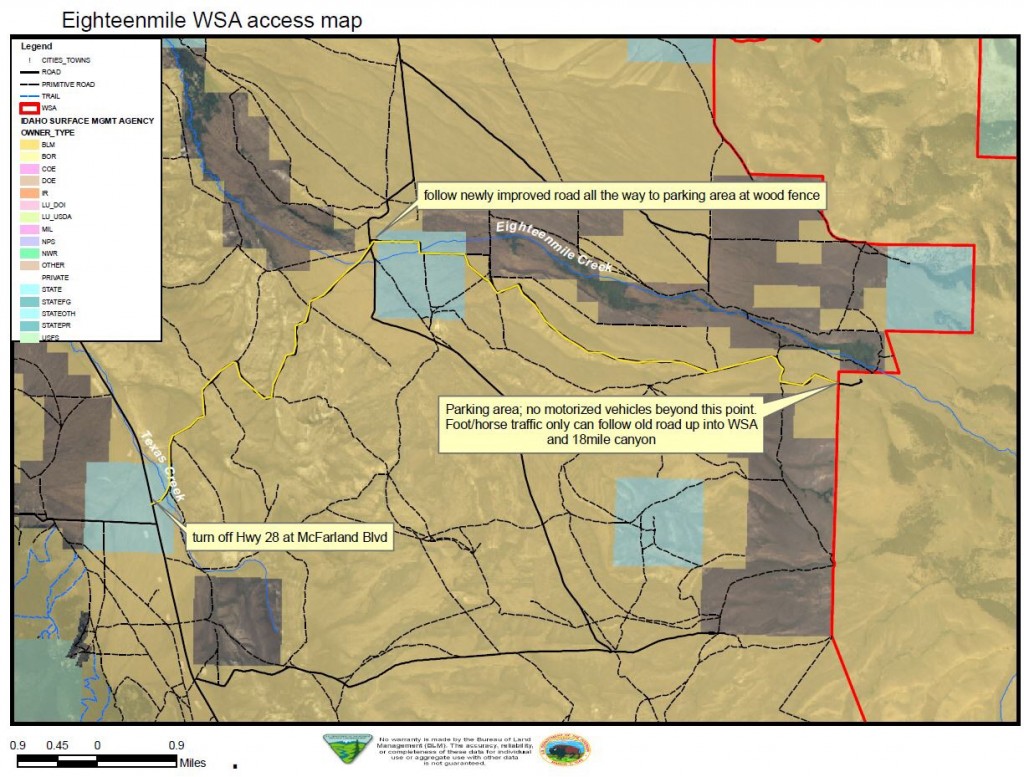 Montana Access and Routes by Livingston Douglas
Note: This climb is the final leg of a 2-peak adventure that includes Eighteenmile Peak and Cottonwood Benchmark.
Access
Same as for Eighteenmile Peak. This is the second leg of a 2-peak adventure that begins at the lowest Harkness Lake.
East Face/South Ridge, Class 2
The Climb
From the unnamed lake (9,580 feet) at the base of the north face of Eighteenmile Peak, skirt the left/west side of this beautiful lake and stay on the left/west side of tree line to reach another forested area to the north. Bushwhack north then northwest to tree line. Once above tree line, scramble up loose scree/gravel to reach the south ridge of Cottonwood Benchmark at a flat ridge area (10,700 feet). Scramble north up the ridge (sketchy climber's trail here) through talus/scree to reach the gentle tundra/talus summit of Cottonwood Benchmark. The summit has a large metal post as a benchmark. I built up the cairn that surrounds it.
East Ridge, Class 2
The Descent
From the summit, descend the east ridge on open terrain (loose scree/gravel) down to tree line. Bushwhack down through a delightful, open pine forest to a thicker forest below. Cross to the south side of Cottonwood Creek in a meadow. Bushwhack across a dry meadow of thick, tall field grass to get back to the highest Harkness Lake. From there, follow an old 2-track jeep road (marked as the CDT) southeast to the ridge on the south side of Harkness Lakes. Descend northeast down the ridge (old road here too) to the lowest Harkness Lake and your parked vehicle.
Mountain Range: Beaverhead Range
Longitude: -113.00619 Latitude: 44.47089
Photos: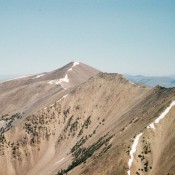 Share this post ...