Elevation: 11,125 ft
Prominence: 1,635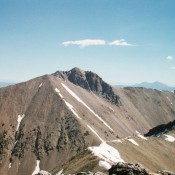 Climbing and access information for this peak is on Pages 324-325 of the book. The elevation has been updated to 11,125 feet. The Idaho access updates found below was provided by Judi Steciak. Livingston Douglas provided the Montana access and route information. Updated November 2020
---
Eighteenmile Peak and its neighbors, Jump Peak and Cottonwood Benchmark, surround a beautiful high valley. It is possible to climb all three peaks in a day. USGS Eighteenmile Peak
Note: Livingston Douglas reports "I attempted to do the ridge traverse from Eighteenmile Peak to Cottonwood Benchmark but found that the steep rock buttress was Class 4/5 and dangerous to get off Eighteenmile Peak, not Class 3 as some claim that it is, so I had to descend way down to a 9,580-foot lake and re-ascend from there to reach Cottonwood Benchmark. A lot more work, but it was necessary to make the day a success."
Idaho Access Update
Judi Steciak reports that access has changed for the Eighteenmile Peak and Jump Peak area. Please find below the 2011 BLM map for access to the Eighteenmile Wilderness Study Area in the Beaverhead Mountains. This replaces the (B)(6.1) Eighteenmile Creek Road description on Page 329 of the book and it avoids private property. We used this map with an Idaho back roads atlas and topographical maps. The road was re-graded in 2011 and is accessible to higher-clearance passenger vehicles. There are at least two outfitter camps in the Eighteenmile WSA during hunting season. Thanks to Judi Steciak and Carl Hamke for this update.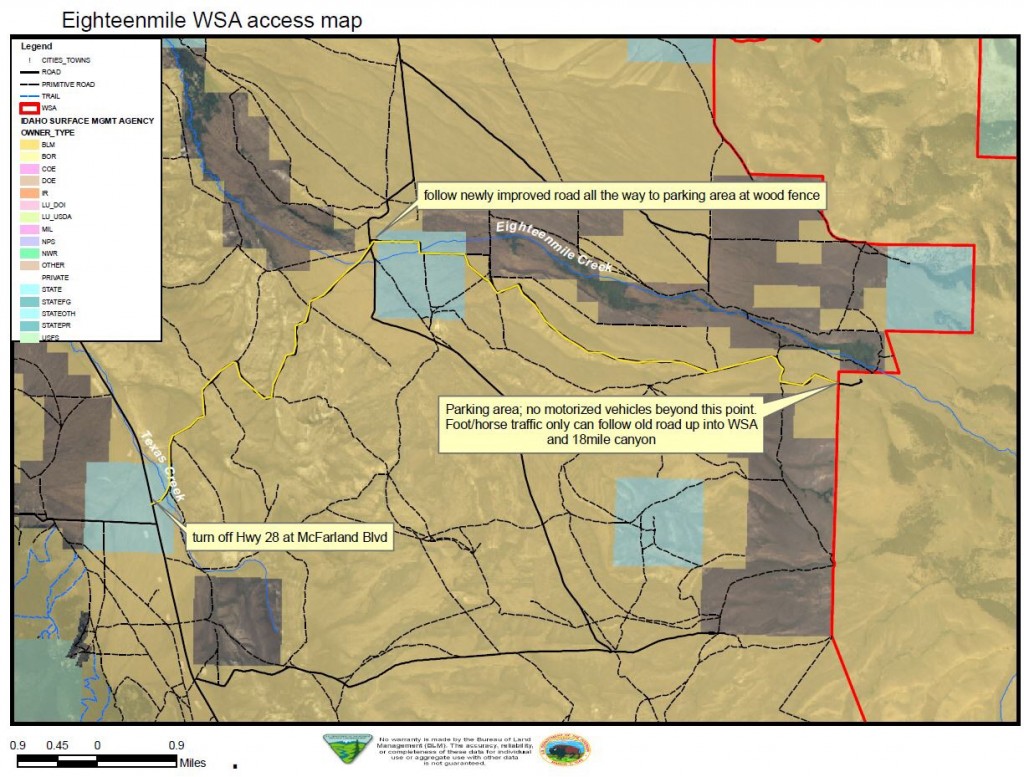 Montana Access and Routes by Livingston Douglas
This climb is the first leg in a 2-peak adventure that includes Eighteenmile Peak and Cottonwood Benchmark.
Access
From Exit 23/Dell on I-15 in Montana, cross under I-15 to its west side. Turn left/southeast onto the frontage road and drive 1.6 miles to the [signed] junction with Big Sheep Creek Road. Turn right/southwest onto Big Sheep Creek Road and reset your odometer. At 16.7 miles, reach a road junction. Go left for Meadow Creek/Nicholia Creek. At 16.8 miles, reach another road junction. Go left onto Nicholia Creek Road/FSR-657.
At 17.1 miles, reach a road junction. Go straight on Nicholia Creek Road. At 19.6 miles, turn left. At 23.3 miles, turn left. At 24.1 miles, reach the National Forest boundary and a signed road junction. Go right here for "Harkness Lakes." You are now on FSR-3928/Cottonwood Creek Road. At 25.5 miles, reach a signed road junction. Go right onto FSR-8274 for "Harkness Lakes." At 26.6 miles, reach the lowest Harkness Lake and park/camp here (8,250 feet).
Northeast Ridge, Class 2
The Climb
From the lowest Harkness Lake, scramble up an open ridge on the south side of Harkness Lakes to reach the broad northeast ridge of Eighteenmile Peak. Climb southwest up the open scrub of the wide ridge. The ridge bends left/south higher up to reach a flat ridge area (9,800 feet) at the base of a steeper, rockier section. The ridge bends right-ish/southwest at this flat area to make the final climb to the summit ridge.
This steeper ridge section heads southwest then south to intersect the southeast ridge near the summit. Initially, the terrain is mostly loose gravel/scree with some tundra and has a climber's trail on it. The upper section is narrower, has more talus, and is more stable. A climber's trail goes left/south to reach the southeast (summit) ridge. This section is dangerous because it is steeply angled with loose gravel in spots. Once on the southeast ridge, scramble up mostly boulders for 150 vertical feet to reach the rocky summit of Eighteenmile Peak. The summit has a modest cairn near the high point, which is a large boulder.
Northeast Ridge/North Face, Class 2
The Descent
From the summit, return to the northeast ridge and descend down to near the flattish area at 9,800 feet. Leave the ridge and descend northwest (mostly on tundra) down a face then a shoulder to reach an unnamed lake at 9,580 feet. This is the low point in the traverse to Cottonwood Benchmark and concludes the first leg of today's journey. Cottonwood Benchmark is up next.
Mountain Range: Beaverhead Range
Longitude: -112.99639 Latitude: 44.44739
Photos: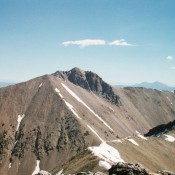 Share this post ...