Elevation: 11,509 ft
Prominence: 689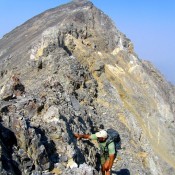 Climbing and access information for this peak is on Pages 283-284 of the book. Below you will find supplemental information for the two routes listed in the book, plus photos and comments on other potential routes. The Southeast Ridge Route is listed as Class 3-4 in the book. It should be listed as Class 3. Updated September 2018
---
Named after the late Chuck Ferguson of Idaho Falls, Ferguson Peak sits on the East Side of the Lost River Range between Dry Creek and Long Lost Creek. It is one of the most geologically and physically convoluted peaks in the range. Its summit is protected by complex cliffs on many sides and steep talus on its West Aspect. The peak's Southeast Ridge is by far the most approachable line to the summit. Both routes listed in the book (Southwest Gully and Southeast Ridge) finish on the Southeast Ridge. As of September 2018, only 15 people have reached Ferguson's summit. Supplemental access information can be found at this link: (6.1.1) FS-434, Long Lost Creek Road. USGS Massacre Mountain
The Southwest Gully route joins the Southeast Ridge at roughly the 11,200-foot contour. The Southwest Gully Route crosses steep talus to this point and the Southeast Ridge route is also basically a Class 2 line to this point. From the 11,200-foot contour, the ridge forms a series of towers which must be bypassed on the West Side. None of the Class 3 moves is difficult. The most interesting move is a notch or tunnel found at the base of one of the towers. See the photos below.
The following photo shows the most exposed Class 3 move on the Southeast Ridge.
The Southeast ridge undulates over 1.7 miles from the 10,200-foot saddle to the summit. Once you gain the ridge crest, it is a scenic walk with mostly good footing for the entire distance.
Climbing the peak via the Southeast Ridge from Long Lost Creek is a 5.4-mile hike which gains just under 3,500 feet of elevation. The Swauger Lake Trail is well maintained. Leave the trail at the saddle above Swauger Lake and follow game trails southwest through mostly open terrain to the 10,200-foot saddle at the South End of the Southeast Ridge.
Other Routes?
There are no doubt other more difficult lines to the summit. The cliffs that surround most of the peak will require technical expertise but, when snow covered, it is likely that a line for a snow climb could be found through the cliffs.
I climbed the peak with Pat McGrane. Pat had an idea that we could safely descend the peak via a ridge that descends toward Swaugher Lake from the midpoint of the Southeast Ridge. While I questioned the feasibility of his proposal, I agreed to give it a go. The bottom line is we both made it down safely via two different Class 3-4 lines. My line is shown on the GPS track above. However, considering that "discretion is often the better part of valor," I cannot recommend either descent line. The Enigma Ridge is completely guarded by cliffs and both of us were lucky to find our way down because the odds were with the mountain.
Mountain Range: Lost River Range
First Ascent Information:
First Ascent Year:

1978

Season:

Summer

Route:

Southeast Ridge

Party:

Chuck Ferguson
Other First Ascent:

Southwest Gully

Year:

1993

Season:

Summer

Party:

Rick Baugher
Longitude: -113.60529 Latitude: 44.07669
Share this post ...