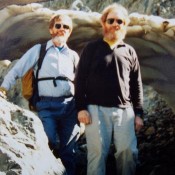 The late Chuck Ferguson (1940-1998) is not as well known as one would expect, considering his accomplishments as an Idaho climber with a peak (at least unofficially) named after him. I met Chuck in the early 1980s during my working at the Idaho Falls YMCA. I was organizing community fun runs in Idaho Falls and Chuck ran in all of them. As a public school math teacher, Ferguson was a stickler for accuracy and I was told more than once that my 10K courses were not measured accurately. I did not realize he was a climber until 1993.
I discovered that he was more than a runner when I climbed Peak 11509, now named after Chuck. Perhaps a good starting point for my discovery was August 15, 1993 when I finally climbed the peak. The 11,509-foot, cliff-rimmed mountain that divides Dry Creek and Long Lost Creek on the back side of the Lost River Range is a daunting challenge. The day before (from Far and Away Peak) I had spotted a gully on the Southwest Side of the peak that looked climbable. It was and when I reached the top, it looked untouched. But then I found a little meat snack tin tucked into the rocks. Inside the tin was the name Chuck Ferguson along with the date June 29, 1978.
Anyway, after my adventure I felt compelled to call Chuck and compare notes. Turns out he climbed the dicey East Side line from Swauger Lakes to reach the summit. His route involved crossing a catwalk snow bridge on the peak's narrow South Ridge. Apparently we had something in common, as we climbed together over the next several years on a dozen peaks or more peaks.
During his life, he climbed Borah Peak 25 times and climbed hundreds of other Idaho peaks and undoubtedly recorded several first ascents including a difficult route on Brocky Peak in the Pioneer Mountains. Looking over Chuck's peak list, I see Warbonnet was the second peak he did after Borah. Talk about diving in head first. In addition to Brocky, his other first ascents are Pegasus (July 29, 1994) and Straight Shot (October 21, 1995). He shared his climbs with relatives, colleagues, students, and friends and left an enduring legacy in Idaho's climbing history. Climbing was something that he was good at, but Chuck's passion was running.
He completed 100 of the 26.2-mile marathons and several ultra-marathons, almost winning the Lake Tahoe 72-miler. He began climbing mountains in 1976 as a training tool. All together, Chuck climbed over 200 peaks, including 54 Colorado Fourteeners. Warbonnet was the second peak he did after Borah on July 16, 1977. In fact, he and David were first known Idahoans to complete the 54 Colorado Fourteeners on August 21, 1998.
Share this post ...