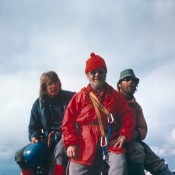 Lou Florence served in Africa and Italy in WWII. He moved to Boise with his family in 1972. He and his son Frank started Sawtooth Mountaineering, Boise's first dedicated climbing and Nordic ski shop. An avid hiker and scrambler himself, Lou used Sawtooth Mountaineering as a venue through which to promote outdoor recreation. Throughout the 1970s, the shop offered introductory rock climbing and mountaineering instruction and helped to broaden the base of active climbers in Southwest Idaho at that time.
This coincided with the early development of climbing routes in the basalt columns along the Boise River (The Black Cliffs). He also brought guest speakers/instructors to the shop including Henry Barber, Louie Stur, Royal Robbins, Bill March and British mountaineer Doug Scott. Lou was also active in the development of some of the first Nordic ski trails in the Boise National Forest and he was an early advocate of the Boise River Greenbelt.
Bob Boyles told me: "I can't overstate how influential their shop was to the Boise climbing scene. 1972 was a golden era in climbing. Heck, one could go put up a new route at the Black Cliffs, Table Rock, the Sawtooths, Lost Rivers, Pioneers and on and on. Lou and his shop served as the focal point for Boise climbers."
Share this post ...