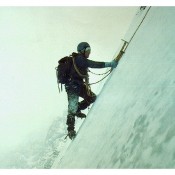 Bob grew up in Boise and started hiking and camping in Idaho when he joined the local Boy Scout Troop 77 at age 11. In pursuit of his Hiking Merit Badge, Bob learned about the "ultimate" local scout hike: the 50-miler through the Sawtooth Range. While his Troop never organized such a trip, he and his friends did. He later made several crossings of the entire range, including several in Winter on skis.
In Summer 1972, Bob took his first technical rock climbing class at the Table Rock quarry where he honed his rock climbing skills and shortly after started exploring and climbing at the Black Rocks outside of Boise. Not wanting to hang up their climbing gear in Winter, Bob and his friends started ice climbing in the canyon above ID-21 in Winter 1973. He remembers, "People used to beep their horns at us and stop in the middle of the highway to watch these crazy guys sticking to the short, vertical ice formations that formed in the canyon. One thing led to another, and after getting a tip from a friend who farmed near Twin Falls, we spent a couple of Winters climbing the multi-pitch ice formations in the Snake River Canyon. That was scary stuff and we're lucky we didn't get killed or injured using our primitive 70cm ice axes and alpine hammers on vertical ice."
Throughout the 1970s and 1980s, Bob and his friends treated climbing and skiing like a career and ventured throughout the West in pursuit of new objectives. From 1973-1983, he made annual Summer trips to the Tetons, climbing many of the big peaks in the range. Other trips led to the Cascade volcanoes, Yosemite, the North Cascades, the Canadian Rockies and the Sawtooth and Lost River Ranges. Marriage, two children and a 24-year career at Hewlett Packard slowed down Bob's climbing pursuits but never stopped them.
In 2013, Bob made his 30th ascent of Mount Borah at age 60. As such, Bob is the undisputed Dean of Borah climbers. He recalls, "I had just turned 60 so I had to get that Number 30 out of the way. After 1973, I made sure that I climbed it on my decade years of 1983, 1993, 2003, and 2013 when I was 30, 40, 50 and 60. As for 70, ha, who knows? Why do I keep doing it? It's a personal physical test and I figure that if I can't make the summit of Mount Borah then my days of doing this kind of stuff are coming to an end for good. Every year, I've been pleasantly surprised that the grind and the altitude hasn't bothered me (yet). I tell everyone when I climb now that someday I might just turn around on a trip and say "screw it" for good. Heck, I'm going to be 62 next year and it keeps getting harder to find anyone in my age group to go with."
Bob, both as a pioneering Idaho climber and a climbing historian, has contributed many articles and photos to this website. Here are links to several of his articles: