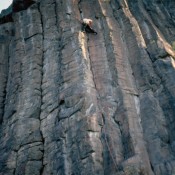 During the Summer of 1972, three of my friends and I took a basic rock climbing class at Table Rock from Frank Florence, a rock climbing instructor who had just opened a shop (Sawtooth Mountaineering) on Fairview Avenue. Frank and his father Lou moved to Boise from New York City in pursuit of a new life out West where the mountains were taller than the buildings on Wall Street. After that initial class, the 4 of us (Carl, Mike, Guy and I) were totally hooked on this new sport and we started to buy climbing gear so that we could continue with our newfound pursuit. We managed to get one trip to Slick Rock near McCall before Fall came and the rain and snow pretty much shut down the high country.
The unimproved dirt road to Table Rock was notorious for holes when it was wet and walking up wasn't much better so, on a whim, we ventured out ID-21 to check out what we called the "Black Cliffs." The area had a reputation for being dangerous and we were warned that some of the basalt columns might collapse if we tried to climb them. We never had a problem with the columns being unstable but we did learn to set our belays way off to one side to protect the belayer from the rocks that had to be cleaned while working on a new route.
On earlier Boy Scout hikes in the area, we had stumbled upon a large den of rattlesnakes on what is now called "The Dark Side" so we were pretty cautious about sticking our hands into cracks without taking a close first look. As it turned out, we never found a single rattlesnake on the highway side of the cliffs and later we were told that someone had used dynamite to blow up the den that was found in the main canyon (Car Body as it was later named). We scouted around the cliffs on the left side of the canyon and soon found a line that looked feasible so we roped up and climbed it. I think I took the first lead but as soon as we were done we roped up and did it again. After that first climb, we used the route as a warm-up on future trips and coined the name, The Standard. We soon realized that the black basalt was a magnet for heat even with the low angled sun of Winter and continued to climb and put up new routes throughout the Winter.
It didn't take long for word of our discovery to spread in the small climbing community that had formed at Sawtooth Mountaineering, but the stigma of being a dangerous place to climb took a little longer to go away. When the Spring of 1973 came, we pretty much switched our main focus of climbing to the Cliffs and the only other people we saw during the Spring was Tom McLeod and his climbing partners. Tom, one of the hottest climbers at Table Rock and never one to want to just repeat someone else's climb, started working on new hard routes on the right side of Car Body Canyon. Because we had a friendly rivalry, we never told each other what we were working on until it had been completed.
Bottom-up, on-sight leads were the standard and grabbing a piece of gear or resting on it was considered aid climbing even if no one saw you do it. To us, it was simple. Free climbing was all free and any use of gear to make progress was aid. If a new route was top-roped, it was only because there was no way to protect it with the gear we had and it was noted as being a "top-roped climb". We figured if we couldn't do a route with the gear we had, we just weren't good enough and we would have to get better. Pitons were almost never used due to the fact that they didn't work well in the flared cracks and the use of them could cause the rock to expand and break.
Yvonne Chouinard had just introduced hexes and stoppers to the climbing world and they turned out to be the best and safest gear we could get to use in the natural features of the basalt. The use of bolts would come later after clean climbing ethics of the 1970s were not adopted by the next generations of climbers. The use of bolts opened up climbing on a large number of new, hard routes that could not be climbed safely without their use. The rock climbing standards in the valley rose higher as a result. I can't recommend that any modern sport climber should use what was a common anchor back then on the top of the cliff–an improvised V-thread anchored to sagebrush.
By the Summer of 1974, the Black Cliffs had become quite popular. Most of Boise's small community of climbers were visiting and climbing there. Our exploring took us all the way down towards the end of the cliffs near the Lucky Peak Dam and Tom ventured across the dam to start putting up some very hard routes on what is known as the "Dark Side." At some point, Tom hooked up with Bob Jahn, a Gunks climber who had moved to Boise from back east. Tom, who had set the standard for the hardest routes  at the Cliffs (5.9), soon pushed the standard higher (5.10) when he and Bob started climbing together. This was at a time when the hardest routes in the country were rated 5.10 so, with little doubt, those two were at the cutting edge of free climbing standards in the country at that time.
Later, in the 1970s, Doug Scott, the renowned Himalayan climber from England visited Boise on an invite from Lou Florence and put up a route that bears his name in Car Body Canyon. Lou also invited the renowned solo climber, Henry Barber for a visit to Boise and he spent an afternoon climbing at the Black Cliffs. During this outing, he free-soloed a new route to the amazement of all those who were lucky enough to be there and watch. During the 1980s, Tony Yaniro (the prolific Joshua Tree climber) spent most of the Summer in Boise and out up new routes at the Cliffs. Later, the young Pete Takada was climbing and perfecting his technical rock climbing skill at the Cliffs.
As for any climbing that occurred before the 1970s, the only traces we ever found were some old iron ring pins that looked to have been used for rappel practice. I had heard that the Hari Clark (who worked at Bob Greenwoods Ski Shop) had trained the National Guard out there but I can't confirm that. Bob Greenwoods was the first shop in Boise to carry modern climbing gear and offer professional rock climbing instruction from Hari and Tom Naylor before they got out of the rock climbing business.
All photos by Bob Boyles except where noted.
---
And now for some recollections of John Platt:
I remember trying to climb out there with pitons. They would ring like a mother as you pounded them in, then rotate 30° when you put weight on them. This because the cracks flared as they went in. Not confidence inspiring. So we didn't do much out there until clean climbing and hexes/stoppers. Of course for me, "we" almost always meant me and McLeod.
Back then, there weren't any chains. So we climbed to the top, sometimes making the final move in dirt, then tied off to sagebrush for a belay. Kick some spots for your heels (in rock shoes) in the dirt. I think we were still employing this tactic in the late 1980s.
In the late 1980s, McLeod was doing some very hard stuff. I recall going to Car Body Canyon and climbing overhung routes. Tom would lead them, but I couldn't follow. We called these "thrash and dangle" because the overhangs were always near the top, and I would get past the last piece, then fall off (after thrashing), hanging in space (dangle). Tom didn't want to lower me 60 feet off a sagebrush, so I would clip jumars and ascend to the top.
1963 Boy Scouts Snake Hunters
Bob Boyles provided the following photos from 1963. Future Idaho explorers start early in Idaho. Bob relates "I was 10 and didn't get to go on the Boy Scout hike because I wasn't old enough to join for another year. I was standing there when the "troops" of Troop 77 came back with the rattlesnake that almost bit one of them."
Share this post ...