Elevation: 5,040 ft
Prominence: 500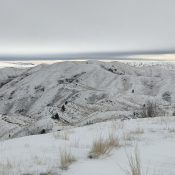 This peak is not in the book. Additional Danskin Mountains access information can be found in the book at (D)(1) at pages 154-5 and (G)(1) at page 156. Also see the following website page: Danskin Mountains OHV Trails. Two routes are set out below. The first is by Mondo Mountain Biker Erik Pohlmann. Erik approached the peak by following the OHV trails in a counterclockwise manner. The second route is mine. I also climbed the peak using the trails but took the shortest line possible. Updated May 2019
---
Flat Benchmark and Bender Peak are located on a ridge line dividing Willow Creek and Flat Creek. The highlight of a climb of Flat BM may be the approach: there are multiple scenic trail and loop options, and you can easily incorporate bagging Bender Peak which shares the same beautiful rolling trailed ridge line which is a highly recommended trek. Unfortunately, due to more recent fires, much of this area is now simply grassland and is devoid of even sagebrush, but is still beautiful to explore during three of the four seasons (I recommend avoiding summer due to intense heat).
Erik Pohlmann's Danskin ATV Trail Approach 
Access
Trail access can be found on either the west side Flat Creek drainage via the Bender Creek Trailhead, or the east side Willow Creek drainage via the Willow Creek Trailhead. Both said drainages are forested, but Flat Creek is the best bet during high spring runoff since it contains lower water volume and bridge crossings. The various trails leading from said drainages up to the ridge and summit are steeper on the east Willow Creek side, and more manageable on the west Flat Creek side.
A mountain bike is a great way to explore both Flat BM and "Bender Peak", and the associated trails. Some of the trails are very steep and chewed up, so I recommend biking the trails listed below in sequence which requires very little hike-a-bike and results in 3,500 feet of elevation gain over 24 miles. My favorite trails for biking along this route are trail 311 which is quite flowy and fast, and trail 400 which is technical and chunky.
Erik's Recommended Route
Bender Creek Trailhead, Trail#300, Trail#314, Trail#310, Flat BM, Trail#310, Bender Peak, Trail#311, Trail#300, Trail#317, Trail#400, Willow Creek Trailhead and finally take the Blacks Creek Road back to the Bender Creek Trailhead.
North Ridge, Class 1 or 2
I parked at the Bender Creek Trailhead on the Blacks Creek Road. The trail  follows FST-300 southeast to FST-311 in 4.3 up and down miles. FST-300 is a heavily used, well made trail complete with bridges.
From the TH the trail climbs out of Woods Creek, crosses a ridge and drops into Bender Creek. It then climbs out of Bender Creek, crosses another ridge, drops briefly into an unnamed drainage, climbs once again over another ridge and then drops into Jack Creek. The trail then drops down Jack Creek to Flat Creek. The trail turns up Flat Creek. Follow the trail up Flat Creek to the signed junction for FST-311.
FST-311 is a steep, repeat steep, trail which climbs up to within 150 feet of the summit of Bender Peak where it meets FST-310. Turn east and follow FST-310 south  to Flat BM's north ridge where an unofficial trail leads quickly to the summit. You can shorten the hike by leaving the trail before the north ridge and climbing up the steep, grassy slope to the ridge top.
USGS Grape Mountain
Mountain Range: Boise Mountains
Longitude: -115.81939 Latitude: 43.50549
Share this post ...