Elevation: 4,966 ft
Prominence: 346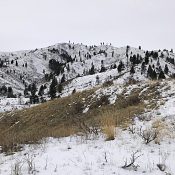 This peak is not in the book. Two routes are listed below. Additional Danskin Mountains access information is in the book [(D)(1) on Pages 154-155 and (G)(1) on Page 156]. Also see the following website page: Danskin Mountains OHV Trails. Updated May 2019
---
Peak 4966/Bender Peak is an unofficially-named summit that is located in the north-central portion of the Danskin Mountains. Like many Danskin peaks, Bender Peak is usually accessible early in Spring. USGS Grape Mountain
---
Access
Access both routes for Bender Peak from Blacks Creek Road [(G)(1) on Page 156] at the Willow Creek trailhead. From I-84, use Exit 64 east of Boise. From the exit, take the well-paved road north through rolling hill country. Keep left at the only paved fork (which has signs for stores in Prairie, Idaho). Continue for 8 miles for the Bender Creek trailhead or 11 miles for the Willow Creek trailhead on this good graded road as it climbs over a pass and then descends to Woods Creek and the trailheads. Here, you will find a vault toilet and a large parking area.
Be aware that a sign at the beginning of the graded road states that it is not maintained during Winter. But based on years of experience, in low snow years the road is often passable most of the winter. Still, it is a narrow, steep road that can be dangerous and impassable in Winter conditions.
Northeast Ridge, Class 2
From the Willow Creek trailhead parking lot, cross the road to the base of the peak's circuitous Northeast Ridge. A granite rock outcrop marks the base of the ridge on the south side of Willow Creek. Contour around the outcrop and follow a deer trail up the East Side of the ridge for approximately 100 feet. Then climb straight up to the ridge top. From this point, stay on the ridge crest to the summit. The ridge has a series of steps that vary in steepness. When you reach roughly 4,800 feet, cross a motorcycle trail that is part of the Danskin Mountains OHV trail system. This system provides an alternative, but much longer, way to ascend Bender Peak. Follow the trail the final distance to the bald summit.
Southeast Ridge, Class 1
Park at the Bender Creek trailhead on Blacks Creek Road. The trail follows FST-300 southeast to FST-311 in 4.3 up-and-down miles. FST-300 is a heavily-used trail complete with bridges. From the trailhead, the trail climbs out of Woods Creek, crosses a ridge and drops into Bender Creek. It then climbs out of Bender Creek, crosses another ridge, drops briefly into an unnamed drainage, climbs once again over another ridge and then drops into Jack Creek.
The trail then follows Jack Creek down to Flat Creek. The trail turns up Flat Creek. Follow the trail up Flat Creek to the signed junction for FST-311. FST-311 is a STEEP trail that climbs up to within 150 feet of the summit of Bender Peak where it meets FST-310. Turn left and follow the trail to the summit which is a short distance above.
Mountain Range: Boise Mountains
Longitude: -115.82909 Latitude: 43.52209
Share this post ...