Elevation: 8,867 ft
Prominence: 687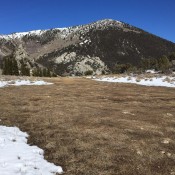 Climbing and access information for this peak is on Page 349 of the book. Hanna North lives below the peak. Her comments regarding accessing the summit via the Skyline Trail are found below. Livingston Douglas has provided significant clarifications and updates for climbers interested in accessing this peak by the route listed in the book as well as detailed route descriptions. Finally, if you plan on camping in or near the City of Rocks, please be advised that it is an extremely busy area. As Livingston Douglas pointed out "Man, was that place crowded. It was late September and every one of the 80+ campsites was filled!" Updated November 2018
---
Graham Peak is located at the south end of the Albion Range above the City of Rocks National Reserve. Eastern approaches to the peak are blocked by private land, but the peak is approachable from the National Reserve by trail. Access from the west and north is via old roads which are gated but are open to self-propelled travelers. The views from the top of the City of Rocks, Cache Peak, Mount Independence, the Black Pine Range, Utah's Raft River Range, and Pilot Peak make this peak a special place. USGS Almo
---
The Hiking Route from the City, Class 1-2
The trail approach from City of Rocks crosses well-maintained and signed trails. Hike to Indian Grove and then choose a Class 2 route that looks good to you. The sage-covered slopes are difficult because the brush is very healthy. Climbing up through the trees worked for me. It is possible to follow a road/trail from Indian Grove to the summit (see Hannah North's note at the bottom of the page). It is a longer walk than the 7.5-mile walk/scramble shown below. Also see John Platt's trip report linked below.
Hannah North provided this additional information:
There is a trail to get a person all the way to the top of Graham Peak, but we didn't send you up because it has too much snow. It's called the Skyline Trail. It goes from Indian Grove up around the Southwest Side of Graham Peak. The Park Service maintains this section of Skyline Trail pretty well. From Graham Peak, the trail goes north along the length of Albion Range to near the Pomerelle Ski Area, maybe 70% single track and 30% dirt road. It's a very scenic trail. I would guess it's about 25 miles long. Except for City of Rocks section, the Skyline Trail is not maintained by the Forest Service so it has deadfall. OK for hikers but not for cyclists or horses. Only portions of the trail still appear on topo maps but more of it is still there.
---
2018 Update by Livingston Douglas 
Road Updates
FSR-562 is called Logger Springs Road. It does skirt the western slopes of Graham Peak "to within 200 feet of the summit" but that statement is misleading. It should read "to within 200 VERTICAL feet of the summit" as it is at least a ¾-mile cross-country scramble from FSR-562 to the summit. The USGS topo map incorrectly places FSR-562 higher on the west slopes than it actually is. The road never gets higher than 8,387 feet. It reaches this crest at its junction with FSR-607/Stines Pass Road which, coincidentally, is about where the "old road to the top of Graham Peak" starts. So, in reality, the road never gets closer than almost 500 VERTICAL feet from the summit of Graham Peak.
The "old road" that "can be followed almost to the top of the peak" is FSR-707, a narrow, rocky jeep road. FSR-707 begins at a junction with FSR-607/Stines Pass Road. This junction is about 50 yards up from the junction of FSR-607 and FSR-562/Logger Springs Road, which is located about 4.3 miles up FSR-562 from its beginning at Emery Canyon Road just inside the West Entrance to the City of Rocks National Reserve. Please consult the Access Section to the northwest face/northwest ridge for Graham Peak for clear, precise driving instructions on how to reach the "old road."
Northwest Face/Northwest Ridge, Class 2—STANDARD ROUTE
Access
From the junction of ID-77 and Elba Road/1950 South in Elba, drive 12.7 miles south on ID-77 (passing through Almo on the way) to a signed right/west turn for the City of Rocks National Reserve at 3075 South. This paved road is unofficially called the "City of Rocks Road." Reset your odometer here.
At 2.0 miles, reach the City of Rocks east entrance sign. At 4.1 miles, turn right to stay on the City of Rocks Road ("Bath Rock Campsites" sign here). At 6.6 miles, cross a 6,530-foot pass where the road name changes to Emery Canyon Road. From the saddle, continue west on the paved road and descend to a meadow. At 7.3 miles, reach a junction with Logger Springs Road (which, after entering the Sawtooth National Forest, becomes FSR-562). This road is signed for "Logger Springs."
Turn right/north onto Logger Springs Road and reset your odometer. Drive up the steep, but smooth, road for 2.8 miles to reach the Sawtooth National Forest boundary (signed). At about 4.3 miles, reach a signed road junction at 8,387 feet. STRAIGHT is Logger Springs Road/FSR-562. RIGHT is Stines Pass Road/FSR-607. Go RIGHT and park at the base of FSR-607. Walk about 50 yards to another road junction. STRAIGHT is FSR-607. RIGHT is Graham Peak Road/FSR-707. This is where the hike begins.
The Climb
Hike up FSR-707, a rocky jeep road, to where it ends near the summit at a minor ridge saddle. Do a short, Class 2 scramble south-southeast to the cairned summit on an easy mix of broken rock and short scrub. You will find a repeater antenna on the summit as well. Most of this hike is Class 1.
North Ridge, Class 2
Access
Same as for the northwest face/northwest ridge
The Descent
This route is part of a ridge traverse from Graham Peak to Peak 8770/Stines Peak. From the summit of Graham Peak, scramble northwest then north along the north ridge to reach Point 8648. The north ridge is mostly open terrain with broken rock and easy, short scrub. Skirt left/west of any ridge crest issues (e.g., thick firs) and use good cattle trails on the upper edge of the thicker veg to help you advanced quickly. Soon after passing Point 8648, you reach a flattish open area with a fence row and an old jeep road coming up from the thick pine forest to the west. This old road is FSR-607A, which you will encounter when you descend Stines Pass via Stines Pass Road/FSR-607.
The fence row is a navigational dream in your effort to descend to Stines Pass. Better yet, the fence is shown on the USGS topo map. Follow the right/east side of the cattle fence as it descends down through a thick pine forest (with a finish in a short section of thick aspens). The footpath alongside the cattle fence turns into an old, overgrown jeep road with blowdown crisscrossing it at various points. The road doesn't quite get you to the pass, but it gets you pretty close.
Bash your way through a section of aspens to reach a rocky outcrop that sits just southwest of Stines Pass. You might think that THIS is the pass but it's not. You will notice a good jeep road to your left/northwest here. That is your ticket back to Logger Springs Road. Continue northeast from here, either skirting or climbing over the minor ridge bump to reach Stines Pass. The cattle fence is in pretty rough shape at Stines Pass. It is laying on the ground to the left/northwest of the pass and it continues, at least temporarily, up the southwest ridge of Peak 8770/Stines Peak.
Mountain Range: Albion Range
Longitude: -113.71619 Latitude: 42.12349
Share this post ...