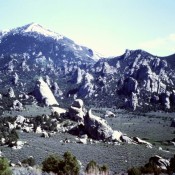 The Albion Range extends 25 miles north from the Idaho/Utah border to a point just south east of Burley. The range varies in width from 10 to 25 miles and includes a parallel southwestern ridgeline named Middle Mountain, and an eastern ridgeline known both as the Malta Range and the Cotterell Mountains. On the main Albion crest, Cache Peak reaches an elevation of 10,339 feet, making it not only the highest Albion peak but also the highest point in Idaho south of the Snake River. Other notable peaks include Mount Independence, Graham Peak, Smoky Mountain and Mount Harrison. Check down the page for trail updates.
---
The City of Rocks:
The southern end of the range is managed as the City of Rocks Natioanl Preserve. The City famous first for its spectacular granite formations which charmed travelers on the Oregon Trail and second for it's spectacular granite formations that have long charmed rock climbers. Get Dave Binghams' definitive guide, City of Rocks Idaho: A Climber's Guide, and go climb a rock.
---
  Trail Updates.
Hannah North provided the following trail information which updates information inmthe book:
There is a trail to get a person all the way to the top of Graham, but we didn't send you up because it has too much snow. It's called Skyline Trail… goes from Indian Grove up around SW side of Graham.
The Park Service maintains this section of Skyline Trail pretty well. Then from Graham Pk the trail goes north along the length of Albion Range to near Pomerelle Ski Area, maybe 70% single track and 30% dirt road. It's a very scenic trail, I'd guess about 25 miles long. Except for City of Rocks section Skyline is not maintained by USFS so has deadfall. Ok for hikers but not cyclists or horses. Only portions of the trail still appear on topo maps but more of it is still there.
Another interesting old trail is Ranger Trail, which circumnavigates Cache Peak at between 8k-9k, maybe 12 or so miles around. Seems to have vanished off more recent topos but it's mostly still there and scenic. Can combine with ascents of Cache & Independence.
The local epic hike is to start in City, climb Graham Pk, drop down thru upper Almo Creek canyon, climb Cache Pk and then finish at Castle Rocks State Park. A grunt!
————
Mountain Range: Albion Range
Share this post ...