Elevation: 7,292 ft
Prominence: 632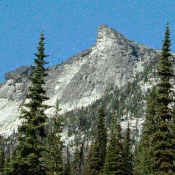 Climbing and access information for this peak is on Pages 38-39 of the book.
---
The following route description and photos are from the late Michael Darcy of CDA.
Overview
Harrison Peak, though not the highest peak in North Idaho's Selkirk Range, certainly has the most striking profile. It stands guard over Harrison Lake, one of the Selkirk's largest and most popular lakes. Technical routes are the standard on the North, South, and West Faces. Only the East Slopes offer a non-technical ascent.
Trailhead Directions
In Bonners Ferry (ID), turn west at the City Center sign onto Riverside Avenue. The City Center sign is just north of the Kootenai River Inn on US-95. Follow Riverside Avenue for 5.4 miles to the Kootenai National Wildlife Refuge. Continue past the KNWR on the paved road for 1.3 miles. Turn left onto [signed] Myrtle Creek Road/FSR-633. Travel 13.6 miles to [signed]  Upper Myrtle Creek Road/FSR-2409. Turn right and travel 1.4 miles (with one switchback) to the end of the road. Harrison Lake Trail/FST-006 begins here. There is parking for 6-8 vehicles.
The Hike/Climb
FST-006 is well maintained and works up the drainage with a few switchbacks thrown in. Two wooden foot bridges traverse the only real stream and swampy ground. The trail levels out at the top of the drainage as it makes its way west toward Harrison Lake. On this level section, look up and to your right to pick up your first good look at Harrison Peak as it periodically appears through some openings in the trees.
At this point, which is just over 3 miles up the trail, pick your best spot to plunge into the brush and go cross country. You will encounter some 6-foot tall brush. Fortunately, it ends quickly. Harrison Peak will remain in view throughout your ascent, so continue upward, aiming to reach the East Slopes.
Once on the East Slopes, work your way up the boulder field. About 100 vertical feet from the summit, you will encounter some flat-sloping rock slabs which present the only Class 3 section. Once ascended, you simply have some ridge top boulders to pick your way through to reach the top. Your time from trailhead to summit will probably fall in the 2.0-2.5 hour range with an elevation gain of approximately 2,400 feet. The highest point on Harrison Peak is surrounded by a lot of air. Dig deep into the suitcase of courage and crawl up on your hands and knees if you so desire. It is best, however, to get on your stomach and inch your way up.
Alternate Routes
1. Continue west on FST-006 until you reach the rock slabs that cross the trail. Begin your cross-country ascent here.
2. Access to the Harrison Lake area can be reached via the Pack River Road/FSR-231, which is 10.5 miles north of Sandpoint, ID. Turn west off US-95 and travel about 20 miles to reach FST-217. The trailhead is obvious and well-marked and has plenty of parking. Follow FST-217 until it intersects with FST-006. Turn right and you will shortly
encounter the rock slabs that cross the trail.
Additional Notes
1. Myrtle Creek Road has a recently-engineered 3-5 mile section of 40 `speed bumps' to enhance your driving experience.
2. If you choose to travel Pack River Road, be warned that the final 6-7 miles is some of the worst road Idaho has to offer.
3. `100 Hikes in the Inland Northwest' by Rich Landers is the choice for a resource book. A 2nd edition has recently been published.
Mountain Range: Selkirk Mountains
Longitude: -116.646323 Latitude: 48.6879861
Share this post ...