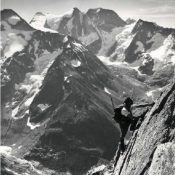 Neil McAvoy of Kellogg, Idaho was an active technical climber and guide in the 1960s and 1970s. He was also member of the Spokane Mountaineers and an early contributor to the book. His exploits on the Selkirk Range's Lions Head's two summits are briefly recounted on Page 38 of the book and are set out below in more detail.
The following are excerpts from a letter Neil wrote in 1987.
The Selkirks:
"The Selway Crest from the town of Sandpoint to the Canadian border offers a few excellent subalpine climbing peaks. Chimney Rock is the best known climb and, for such a small mountain, has attracted considerable attention. In the late 1950s and early 1960s, I climbed the rock 15 times because of its nearness to Kellogg and the nice rock climbing. In May and June, there are lots of steep snowfields to play on around the Chimney. I had a few adventures and memorable experiences on this little peak. For several years, I was regarded as the resident amateur guide to the area and interested persons could arrange a climb with me if they shared expenses. The Forest Service had me install a nice summit register during this era.

Most of the other Selkirk Crest summits have an easy Class 2 or 3 walk-up side and several have some sheer Yosemite-like walls to challenge rock climbers. There are glacial-carved cirques on Hunt Peak, Harrison Peak, Mount Roothaan, The Lions Head and many more. West Lions Head has no walk-up side. In the '60s, poor roads left Mosquito Bay on Priest Lake and ended in washouts making the approach a long bushwack (2-4 hours).

The regular route on the southwest face is a short Class 4 climb on slabs with good holds and belay spots. In our mid '60s climb of East and West Lions Head, we left aluminum tube registers and claimed first ascents. Our claim was disputed by members of the Spokane Mountaineers Club who had climbed the peak one week later. East Lions Head's regular route starts at the E-W col and is a Class 3 friction scramble on sloping slabs to the summit. It is about the same elevation as West Lion Head."
Stevens Peak:
"Stevens Peak is near Mullen, Idaho. The peak was the snow-climbing practice area of the Spokane Mountaineers Club. The likes of John Roskelly, Chris Kopscinsky and hundreds more learned to use the ice axe and camp on snow on this pleasant little hill. I have the distinction of having climbed its faces and couloirs to the summit over 50 times. In 1963, I was teaching Spokane Mountaineers members roped descents on the NW Face when two of them fell and we all plummeted 400 feet. This embarrassed tutor ended up with a separated shoulder."
Share this post ...