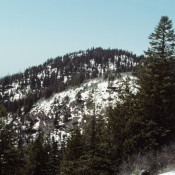 This minor group of Clearwater summits is separated from the main body of Clearwater peaks to the east by the Saint Maries River. The range is oval-shaped and runs from the river west to the Washington/Idaho border, north to Lake Coeur d'Alene, and south to Potlatch.
Hoodoo summits are low and rounded and, for the most part, forested. The highest point is Bald Mountain (5,334 feet). A great deal of logging has taken place throughout the area and roads are replacing trails at a staggering rate. Hiking and climbing is minimal in this subrange. A few summits are reached by seldom-used hiking trails. Some summits have been clear-cut and an expanding road system has left most trails abbreviated or broken and nearly useless. At the Giant White Pine Campground along ID-6, the Forest Service has made efforts to establish and preserve a series of short loop trails which are recommended for day hiking. Be aware that the two 15-minute USGS quads that cover this country are hopelessly out of date. The corresponding Forest Service maps are not much more accurate.
The Palouse range is a small subrange of the Hoodoo Mountains. It is the westernmost extension of the Clearwater Mountains. It rises up north of Moscow to form a divide 18 miles long and 10 miles wide, with a rolling forested crest containing a few granite outcroppings near the crest. Moscow Mountain (4,983 feet) is the highest peak in the range. The majority of the Palouse range is privately owned.
The Forest Service and Potlatch Company each own only small sections of the range, and the University of Idaho operates an experimental forest on roughly 6,000 acres. The remaining land is held by a variety of small landowners. The University of Idaho land is open to the public, but much of the private land is posted with No Trespassing signs. East Moscow Mountain is the only summit on public land and it is reached by a road. Winter use of the range for cross-country skiing is the recommended use.
Mountain Range: Northern Clearwater Mountains
Share this post ...