Elevation: 7,380 ft
Prominence: 400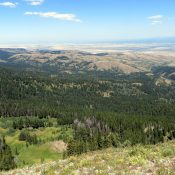 This peak is not in the book.
---
Idaho Ridge lies west of Driggs, Idaho, and north-northeast of Mount Manning, in the Big Hole Mountains within the Caribou-Targhee National Forest. The peak is best described as a long, north-northwest to south-southeast lying mellow ridge. Along this ridge are four potential summits that vary in height by mere feet of each other. Maps show the true summit as the second high point from the north. However, unconvinced by our Garmin, we "summited" the entire ridge.
With a 4WD, Idaho Ridge is easily accessible. Without a 4WD, the peak is still a reasonable climb. Idaho Ridge is also a good peak to mountain bike if you have climbing and downhill skills.
---
Access
From Driggs, take Bates Road west, turn right on N 7000 W, and then turn west again on Old Horseshoe Road (235). This is a good gravel road for all vehicles. Continue on Old Horseshoe Road until you reach a parking area. This lot is a popular staging area for hikers, mountain and dirt bikers, off-highway vehicle users, hunters, and winter sports enthusiasts, as there are many trails and recreational opportunities that can be accessed from this point.
If you do not have a 4WD, park at the parking area and hike from here. If you have a 4WD, continue north on 235 until it reaches 070. This trail is not marked, but it is the prominent, short, steep trail that takes off to the east from 235. Park just off the intersection along 070.
---
Routes
Be aware that there is private property to the south of Old Horseshoe Road, but it is clearly marked. Also, the Idaho Ridge trails are popular for motorcyclists and mountain bikers, so watch for, and expect, traffic.
Northwest Approach, Class 2
From the parking lot, hike the 4WD road, 235, to trail 070. Head east on 070 up a short, but steep climb to the ridge. Hike along the trail to the true summit, or hike the entire ridge, noting two small lakes south of the summit. The views include the Teton Mountains and Teton Valley to your east, Relay Ridge and Ryan Peak to your west, and Mount Manning and other Big Hole peaks to the south. Retrace your route to descend.
Southeast Approach, Class 2
This approach uses trail 140, which starts off the road, east of the parking area. Trail 140 connects with 070 and reaches the summit ridge at its southern end at point 7272. Hike north to the true summit. Retrace your route to descend.
East Approach, Class 2
This approach uses the Woods Hollow trail that begins on private property before crossing the forest boundary. The trail is accessed off of Old Horseshoe Road around the 6146-foot contour. The Woods Hollow turns into trail 140 and reaches the ridge at point 7272. Retrace your route to descend. Of the three approaches, this one is the longest.
USGS Topo: Garns Mountain
Mountain Range: Big Hole and Snake River Mountains
Longitude: -111.31419 Latitude: 43.73969
Share this post ...