Elevation: 10,858 ft
Prominence: 1,078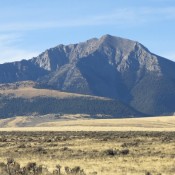 Climbing and access information for this peak is on Page 307 of the book. The book covers the the southwest ridge route. The access directions found below replace those found in the book. Rick Baugher proposed the name after climbing the peak's southwest ridge. Larry Prescott climbed the peak's northeast ridge with his son Ben in October 2015. Livingston Douglas descended the Prescott route after climbing the northwest ridge. His routes are found below. It is likely that all three of these routes were first ascents. Updated November 2019
---
Incredible Hulk is one of the many splendid peaks that surround Bell Mountain. The first ascent was by Rick Baugher via the southwest ridge. You will find links below to both Rick Baugher's and Larry Prescott's trip reports. Larry's report contains additional information and photos of his route. USGS Bell Mountain
---
Northwest

Ridge, 

Class 3

 by Livingston Douglas



A
ccess
Meadow Canyon Road is located along ID-28 in the Lemhi Valley exactly 11.5 miles north of the north entrance to the Birch Creek Campground and 2.0 miles south of Nicholia Road. Meadow Canyon Road is signed. Please note that the old [standard] drive to Meadow Canyon followed a road a few miles north of here that heads directly to the canyon. That road is now an unmaintained, badly-rutted 2-track road that is not advisable for driving a vehicle. This route follows a drivable set of roads to reach the mouth of Meadow Canyon.
Turn left/west onto Meadow Canyon Road. Reset your odometer here. Note that USFS Map Sheet Page 40 labels this road as "Keg Gulch Road," but this is the correct road to be on. At 3.2 miles, turn left onto FSR-717 at a signed junction. At 5.0 miles, enter the Targhee National Forest at a cattle gate. At 5.7 miles, reach a "T" junction with FSR-699. Turn left/south here and drive another 0.1 miles to a signed junction at the mouth of Meadow Canyon. Park at this junction (7,545 feet).
The Climb
Hike (or drive) up badly-rutted FSR-797/Meadow Canyon Road to reach the end of the road just past a fork in the canyon. There is a trailhead here for [unsigned and unmaintained] FST-020. This is the West Fork/Main Fork of Meadow Canyon. FST-020 is a hiking/MC trail with blowdown across it. It is quite faint at times but it follows the narrow, [dry] drainage of Meadow Creek so it's hard to lose it for long. The trail crosses the dry creek bed a few times.
After about a mile of hiking on FST-020 (at 8,100 feet), leave the trail in a small clearing at the base of the northwest ridge of Incredible Hulk. You may need to use your GPS to make sure that you are at the correct spot.  There isn't one magical spot to leave FST-020. Anywhere west of a prominent gully on the east side of the ridge will work. But this is dense forest with lots of vegetation so choose your departure point based on the feasibility of doing the bushwhack up out of the creek drainage.
Leave FST-020 and bushwhack south straight up the steep, forested slope. There is not much brush or blowdown to contend with but there is a lot of downed tree limbs, broken tree branches, and small downed trees (unusual) here. Bigfoot believers might claim that the mythical, ape-like creature was here, but I'm not buying into that. It's just Mother Nature hard at work to make your life miserable. As you ascend, angle a bit left/east to find several diagonal game trails to skirt the large blowdown that begins to appear.
Reach an open ridge area in a grassy field among the pine trees at about 8,900 feet. From here, it's a cruise up through the open forest to tree line. Once above tree line, scramble up reasonably firm scree to reach the pronounced left/east bend in the ridge. At this bend, the ridge rock turns from black to brown. Grind your way higher on looser scree. Higher up, the slope steepens. You will find some spotty goat tracks/trails here to switchback your way up the loose scree.
Move left/north to reach the narrow, rocky ridge crest for better footing as soon as you can. High up, climb up slab rock which goes quickly. After the slab rock section, scramble up choppy but good, solid ridge rock to make your way up to the small, ridgeline summit. There is a decent cairn on the high point.
As a further note: There is a prominent "step" in the northwest ridge that appears to be a good 20 feet tall. You can see it from the mouth of Meadow Canyon because you can see a perfect profile of the northwest ridge from there. The ridge looks IMPASSABLE. I did not look at the ridge from my campsite at the mouth of the canyon. I just, as they say, "went for it." Thankfully, there is a way around this very steep section. You must skirt the right side of the step by grinding up steep, loose scree (on all fours). It is so steep and loose that it is barely do-able but it goes. I NEVER SAW THE STEP because I was on the right side of the ridge crest. It was only when I returned to camp and looked back at the mountain that I saw it.
---
Northeast Ridge, Class 3 by Larry Prescott
Access
Heading north on ID-28 from Mud Lake, we turned southwest at 44.32642 N, 113.06042 W. The road led to the entrance to Meadow Canyon. Incredible Hulk (to the south) and Meadow Peak (to the north) guard the entrance to the canyon. We drove until the end of the road. There is a gate barring vehicles from further entrance into the canyon at this point.
Route
Begin by hiking up the north gully and traversing a bit to the east to reach the top of the ridge line as shown on the GPS track. Follow the ridge upward. Above tree line, there are several obstacles. Rock towers and small cliffs stand in the way. None of these present any challenge worse than easy Class 3 climbing. In fact, many can be avoided by dropping slightly off the ridge and skirting the obstacle. As you ascend, you pass the east canyon and its stunning north face. From this point, the remaining distance to the summit is without obstacles.
Mountain Range: Lemhi Range
First Ascent Information:
First Ascent Year:

1990

Season:

Summer

Route:

Southwest Ridge

Party:

Rick Baugher
Other First Ascent:

Northeast Ridge

Year:

2015

Season:

Summer

Party:

Larry Prescott and Ben Prescott

Other First Ascent:

Northwest Ridge

Year:

2019

Season:

Summer

Party:

Livingston Douglas
Longitude: -113.13249 Latitude: 44.22749
Share this post ...