Elevation: 10,980 ft
Prominence: 80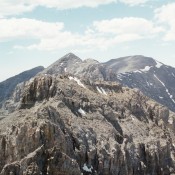 Climbing and access information for this peak is on Pages 325-326 of the book. The access directions in the book are no longer valid due to a road closure. Use the access information set out below. Neil The top of route is in the sunlight/shadow interface. Neil Gleichman contributed the impressive snow/ice climb set out at the bottom of the page. Updated May 2020
---
There are many fine Beaverhead summits that offer challenging scrambles such as Freeman Peak and North and South Doublet, but none offer as interesting a traverse as the one between Italian Peak's two summits. While not a separate mountain per se, Italian Peak's East Summit is the more interesting, albeit lower, of the two summits. The route between the West Summit and the East Summit is a challenging Class 4 scramble. USGS Scott Peak
A
ccess by Livingston Douglas 
From the junction of ID-28 and ID-33 in Mud Lake, drive N on ID-28 for 42.5 miles to [signed] Nicholia Road. Nicholia Road is located 6.1 miles N of the Kaufman Picnic Area on ID-28. Turn R/NNE onto Nicholia Road and drive 3.1 miles to an unsigned junction with a dirt road that runs southward at the base of the mountains. Drive 4.5 miles S on this dirt road to reach an unsigned L turn for Scott Canyon. You will pass 2 turnoffs for Eidelman Canyon (at 0.9 miles and 1.6 miles), a turnoff for Italian Canyon (at 2.5 miles), and a sign for Irish Canyon (at 3.7 miles) on the way.
At 4.5 miles, reach an unsigned left turnoff for Scott Canyon Road. Reset your odometer. At 0.3 miles, enter the Targhee National Forest (signed). The road is now officially FSR-190. At 1.8 miles, pass Blind Canyon (signed on left). At 2.9 miles, reach an unsigned road junction. FSR-190/Scott Canyon Road is badly rutted past this point. You may want to park on this old side road if necessary (7,509 feet). If your vehicle and road conditions permit, drive another mile to the end of FSR-190 at 3.9 miles. This is the parking area for two trails: FST-006 and FST-174. FST-006 is a MC trail that heads up Scott Canyon. The trailhead parking area is a large grassy meadow at a fork in the canyon. There are some shaded, dispersed campsites on the R/S side of the meadow.
---
South Gulley Direttissima, by Neil Gleichman
This route is exceedingly obvious in spring conditions. The route climbs from the valley bottom in north branch of Scott Creek to the summit. Climbed May 4th, 2020. By May 10th the top sections of Alpine ice were broken and discontinuous. Leave Scott Canyon Trhd early enough to descend on firm neve. I saw no evidence of others having passed this way and know of no other ascents but the line is very inviting. Ice axe and crampons are necessary.
Mountain Range: Beaverhead Range
Longitude: -112.8522 Latitude: 44.3592
Share this post ...