Elevation: 10,996 ft
Prominence: 376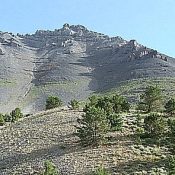 Climbing and access information for this peak is on Pages 325-326 of the book. When I wrote the book pointed I had climbed both the east and west summits but was unsure which was higher. It is now generally accepted that the west summit is the highest. The access directions in the book are no longer valid due to a road closure. Use the access information set out below. Livingston Douglas, Alex Feldman and Steve Grantham have provided the updated information found below. Updated June 2021
---
Italian Peak is located on the Continental Divide, north of Huhs Horn and Scott Peak. This peak along with its sibling Italian Peak East, is an outstanding mountain that would be on my Favorite Climb list if it were not for the horrendous talus I climbed to reach its summit. The peak is one of the more challenging talus climbs. It is every bit the equal of Bad Rock Peak in the Lost River Range when it comes to climbing a "talus hell." USGS Scott Peak
A
ccess by Livingston Douglas 
From the junction of ID-28 and ID-33 in Mud Lake, drive N on ID-28 for 42.5 miles to [signed] Nicholia Road. Nicholia Road is located 6.1 miles N of the Kaufman Picnic Area on ID-28. Turn R/NNE onto Nicholia Road and drive 3.1 miles to an unsigned junction with a dirt road that runs southward at the base of the mountains. Drive 4.5 miles S on this dirt road to reach an unsigned L turn for Scott Canyon. You will pass 2 turnoffs for Eidelman Canyon (at 0.9 miles and 1.6 miles), a turnoff for Italian Canyon (at 2.5 miles), and a sign for Irish Canyon (at 3.7 miles) on the way.
At 4.5 miles, reach an unsigned left turnoff for Scott Canyon Road. Reset your odometer. At 0.3 miles, enter the Targhee National Forest (signed). The road is now officially FSR-190. At 1.8 miles, pass Blind Canyon (signed on left). At 2.9 miles, reach an unsigned road junction. FSR-190/Scott Canyon Road is badly rutted past this point. You may want to park on this old side road if necessary (7,509 feet). If your vehicle and road conditions permit, drive another mile to the end of FSR-190 at 3.9 miles. This is the parking area for two trails: FST-006 and FST-174. FST-006 is a MC trail that heads up Scott Canyon. The trailhead parking area is a large grassy meadow at a fork in the canyon. There are some shaded, dispersed campsites on the R/S side of the meadow.
Southwest Ridge, Class 2
The route information in the book for the Southwest  Ridge Route is accurate. The route starts at the 10,000 foot pass on the peak's Southwest Ridge. Feldman and Grantham and their party left the trail before reaching the pass as shown in the GPS track below. Alex reports "We followed the track from the parking area in Scott canyon at the wooden fence about a mile(?) up the canyon, where we took a left fork on another trail up a draw which eventually goes up to the saddle between Huh's and Italian. The trail we followed is not on the USGS topo, but it is on a forest service map. It headed generally northwest, and we left it at about 9500 feet to gain the southwest ridge of Italian Peak at right about 10,000 feet.  From there we followed the ridge up to the peak. The ridge was steep, but with pretty firm talus that wasn't particularly difficult or time consuming to climb. The ridge leads directly to the west summit." [Editor's note: The difficulty of a talus slope is somewhat subjective.]
"The climb took a little over 6 hours.  I would rate it as a class 2.  It was steep enough that there were places you might have wanted to use your hands, but a hiker with good balance and at least one pole wouldn't have to."
Mountain Range: Beaverhead Range
Longitude: -112.85549 Latitude: 44.36019
Photos: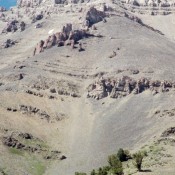 Share this post ...