Elevation: 6,805 ft
Prominence: 575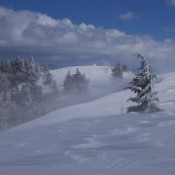 This peak is not in the book, although I skied to its summit several times in the late 1970s and early 1980s. Given the popularity of Kelly Mountain, this page contains route descriptions by Rick Baugher, and Livingston Douglas. The Jefferson County HP is located on the slopes of this mountain. Updated November 2019
---
Kelly Mountain is a broad hump-shaped peak that is located on the south edge of the Big Hole Mountains. The Snake River runs along its south side. The Kelly Canyon Ski Area is found on the peak's west flank. The mountain also harbors the highest point in Jefferson County. Information for reaching the county high point is found below. USGS Heise SE
Kelly Mountain by Rick Baugher
Editor's Note: Rick has ascended this peak more than a thousand times.
"Kelly Mountain is a three-mile long volcanic ridge located in portions of Jefferson, Madison, and Bonneville counties. The high point (6,805 feet) occupies a dramatic overlook of the South Fork Snake River Canyon. If you live in the Idaho Falls/Rexburg area, this corner of the Big Hole Mountains is your nearest National Forest portal. Kelly Canyon attracts all the varied users one expects (or dreads) on lower-elevation segments of public land. For this writer, the sweet spot is when the Kelly Canyon Ski Area is in operation, mid-December through early March. At this time, motorized travel is not permitted in this section of the Caribou-Targhee National Forest. The Idaho Falls Ski Club maintains a hut and nordic trail system here during winter."
All photos are courtesy of Rick Baugher (2/26/07)
Out on "the point," the wind can roar like a freight train. Under these conditions, a 10-foot cornice will form during a 24-hour blow. New ski tracks disappear in minutes. Then, when the wind shifts, tracks made a month earlier are uncovered.
---
Northeast Shoulder/East Ridge, 
Class
2 by Livingston Douglas 
Kelly Mountain is the monarch in this section of the Big Hole Mountains. It even hosts a small ski resort. Its high point has a USGS benchmark and a large cairn. Shamefully, the USGS topo map fails to show all of the roads and trails on this mountain. The easiest ascent route is via the Leaning Fir Trail/FST-169 up the southeast ridge, which goes all the way to the summit. FST-169 is signed and is located in Table Rock Canyon along FSR-217.  
A
ccess
From the signed [and infamous] "Y" junction of FSR-218 and FSR-217, drive 0.7 mile southeast down Table Rock Canyon on FSR-217 to Poison Flat. The Table Rock Group Campground is located here. Park along the road in a minor pullout (5,700 feet). The summit of Kelly Mountain lies directly southwest of this point but this is going to be a STEEP climb.
The Climb
From Poison Flat, cross to the south side of FSR-217/Table Rock Canyon Road. Bushwhack south across a tiny stream and up onto a densely forested shoulder with lots of brush. Bushwhack west then southwest then south up this awful shoulder. The brush here is thick, chest high, and has plenty of thorns to poke you and get in your socks/clothing. Wear gaiters for this climb. This is a BATTLE ROYALE.
Once you reach the east ridge, you will be in open scrub and life is now much easier. You are helped by an old cattle fence and a cattle trail. Grind your way toward the summit. Just before you reach the top, you will intercept an old jeep road (FST-169) coming up the southeast ridge. Follow the steep, rocky road for a short stretch to reach the large cairn on the summit ridge crest. The USGS benchmark isn't obvious, but it may be buried underneath the talus of the cairn. The antenna-clad west summit is about ¼ mile away. It may appear to be higher but it is not. If you plan to climb Lookout Mountain, this is a good vantage point from which to do some recon.
East Ridge, Class 2
Access
Same as for the northeast shoulder/east ridge
The Descent
There is a pronounced east ridge coming down from the summit of Kelly Mountain. It is open, terrain initially and isn't too steep. But it soon becomes forested and very brushy. The blowdown will add to your misery. The east ridge morphs into a face at about 6,000 feet. The face descent from here is simply WICKED. It descends through dense forest, chest-high brush, and blowdown and is VERY STEEP down to 5,600 feet.
The slope eases as you approach the road (FSR-217), but the trees/brush/blowdown don't. You might just kneel down to kiss the dusty road when you reach it. Sweat will be pouring off your body unless it's the dead of winter. Follow FSR-217 upstream to get back to Poison Flat and your awaiting vehicle. My best advice to you is to not do either of the routes presented. Instead, hike up FST-169/Leaning Fir Trail to the top and save yourself a lot of aggravation. You might actually enjoy that hike!
Mountain Range: Big Hole and Snake River Mountains
Longitude: -111.60549 Latitude: 43.62349
Share this post ...