Elevation: 6,535 ft
Prominence: 595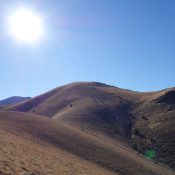 This peak is not in the book. Paul Leclerc provided the original entry and Northeast Ridge route for this peak. Jason Floyd added North Ridge route and approach. This is a difficult peak to access because private property obstructs the most logical approaches. Updated December 2021
---
Lead Mountain is located east of the main Silver City Range crest between Gerdie Hill and Red Mountain. USGS Silver City
Northeast Ridge by Paul Leclerc

Access
Do not be tempted to try and use Bates Creek Road leading out of Oreana to travel in or out of the Lead Mountain and Red Mountain area. It crosses private property and had signs indicating that they did not allow or want people using their section. Take ID-78 south from Murphy for about 7 miles until you see the sign for Joyce Ranch. Continue another mile past the Joyce Ranch Road sign until you see an unmarked road on your right. It has a stop sign leading back out to ID-78.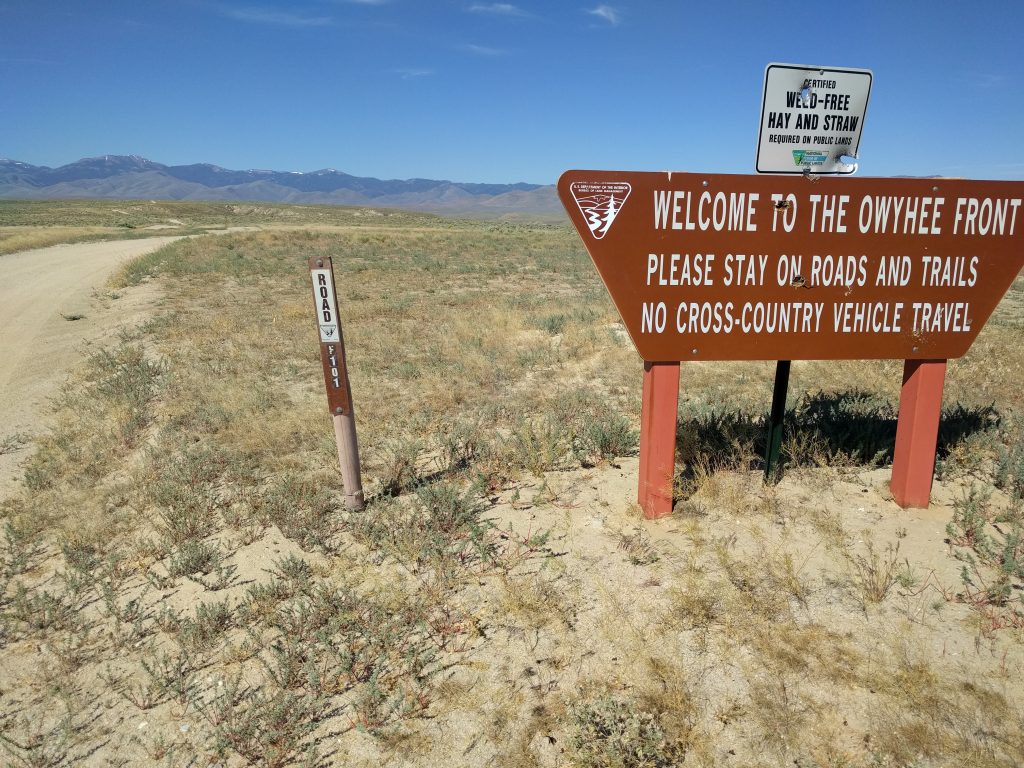 The starting point for hiking to Lead Mountain is about 10.5 miles from the beginning of the road.  How far you get on this road will be largely determined by your tires (off-road treads and 10-ply sidewalls), 4WD, high clearance and your nerves.  As with any other dirt road in the Owyhees, do NOT travel on them if it has recently rained.  The mud will cake on your tires and driving will be unsafe.
The first 5 miles of this road are decent until you get to a cattle guard.  Immediately afterwards the road drops down sharply with larger rocks near the crossing of Fossil Creek.  From here on, the road varies significantly with many sections containing larger, sharp rocks.  At about 8.5 miles (just after the junction with Bates Creek Road), you'll veer right at a fork and head west for about 2 miles. This short 2-mile section crosses several creeks and could be impassable in Spring.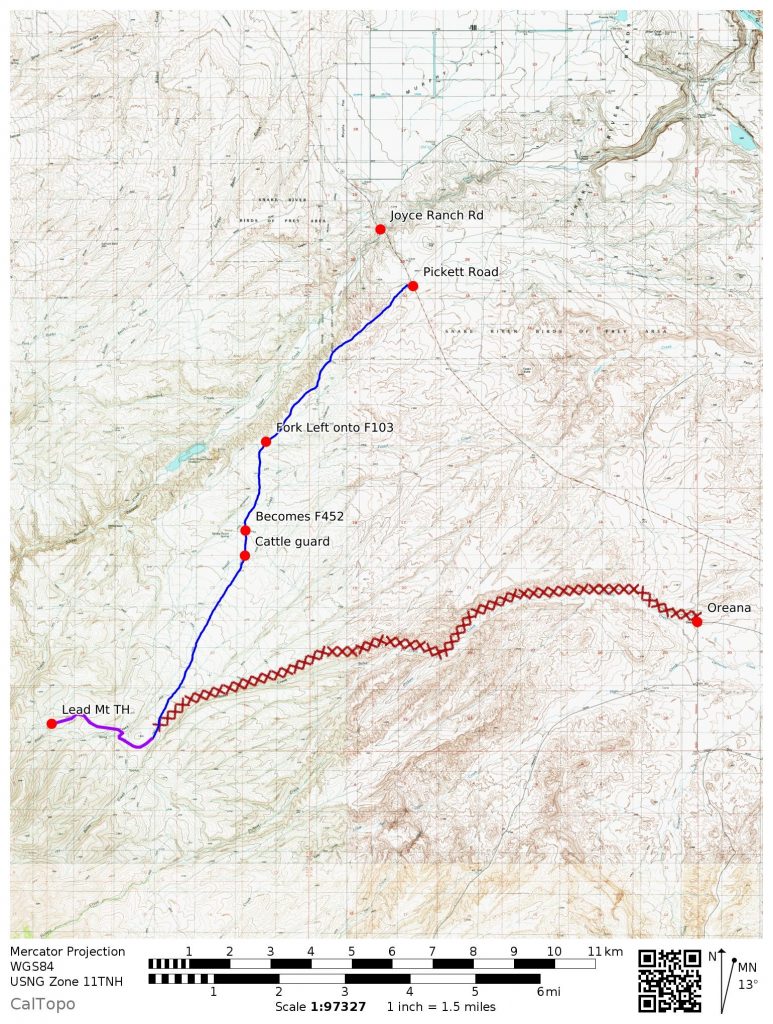 Northeast R
idge
, Class 1/2
I climb the peak on 10/26/2017. Any approach will involve some steeper sections, but none required any scrambling.  I headed north along a dirt road for about 1,000 feet and then turned southwest and oriented towards Point 5904.  Once I reached the base of Point 5904, I hiked along the mellower section towards the base of Lead Mountain. From here (about 2.8 miles in), you gain about 700 vertical feet in around 0.8 miles to the summit.  From the summit, you can see Red Mountain to the southeast, Quicksilver Mountain to the south, and Hayden Peak and Turntable Mountain to the west.
For the return, I descended east towards Fossil Creek and followed it northeast back to my truck.  Be aware that this route crosses private (unsigned) property.  You might want to choose your return path differently. Trip stats: 3.5 miles with 2,100 feet of elevation gain one way; 7 miles with 2,500 feet of elevation gain round trip.
North Ridge by Jason Floyd
Access
From Hwy 78 follow the Silver City Road south for 12.3 miles to a large pullout with room for three vehicles.  This roughly 1.5 miles past Half Moon Gulch.
North Ridge, Class 2
Cross the road and the creek. The creek is quite thick with brush so it may take some looking to find the best way through it. Once past the creek climb up the steep slope to the ridge line above. Drop down off the ridge into the South Fork Sinker Creek. On your descent to the creek there are many downed junipers you will have to navigate. Once in the creek bottom follow the creek the east for roughly 1.0 miles. This is an unpleasant bushwhacking exercise. You will need to cross the creek a few times to avoid thick brush. Eventually you reach an ATV trail. This starts on the Silver City Road but unfortunately access is blocked by private property. This trail runs eastward below the slopes of Gerdie Hill and then climbs to the saddle between Gerdie Hill and Lead Mountain. From the saddle another ATV trail will take you to the top of Lead Mountain. The middle point on the ridge seems to be the highest.
Mountain Range: Owyhee Mountains
Longitude: -116.62929 Latitude: 43.00929
Share this post ...