Elevation: 6,341 ft
Prominence: 441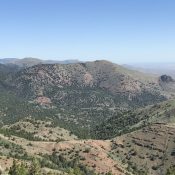 This peak is not in the book. The best approach is from the east via the Bachman Grade Road. Paul Leclerc contributed the alternative, more difficult  northern access and route information for this remote, difficult-to-access peak. Updated October 2020
---
Red Mountain is an attractive peak located northeast of Quicksilver Mountain and the main Owyhee Mountains Crest. The summit is an excellent spot to view the most attractive section of the Owyhee Mountains. USGS Toy Pass
Access
This peak is accessed from Oreana, Idaho. The directions in the book [A](3) Pages 346-347] described the route to Toy Pass via the Bachman Grade/Triangle Road. This road is a wide, well-graded (albeit steep) road suitable for passenger cars when it is dry. Follow the road south from Oreana or 8.9 miles. Turn right onto a rough dirt road 4WD recommended. Follow this road for 2.1 miles. Just after crossing through a fence line the road drops off a high point and meets a junction. Turn left. You will need a 4WD with heavy duty tires from this point. The rugged road runs north paralleling the Owyhee Crest. There are several difficult spots. The worst is on the south side of Hart Creek. The steep descent into the creek bottom is difficult and would be extremely dangerous if the road was wet. Four miles from the Bachman Grade Road you will reach the junction for Red Mountain. Turn right and follow this steep road southwest for 1.4 miles to a wide parking spot.
East Ridge, Class 2
The GPS track below covers the route from the parking spot. The country is wide open and there are other lines that can be used to access the summit. Round trip was 3.8 miles with 1,764 feet of elevation gain.
---
Red Mountain by Paul Leclerc
Access
Do not be tempted to try and use the Bates Creek Road leading out of Oreana to travel in or out of the Red Mountain area. It crosses private property and had signs indicating that they did not allow or want people using their section.
Take ID-78 south from Murphy for about 7 miles until you see the sign for Joyce Ranch. Continue another mile past the Joyce Ranch Road sign until you see an unmarked road on your right. It has a stop sign leading back out to ID-78.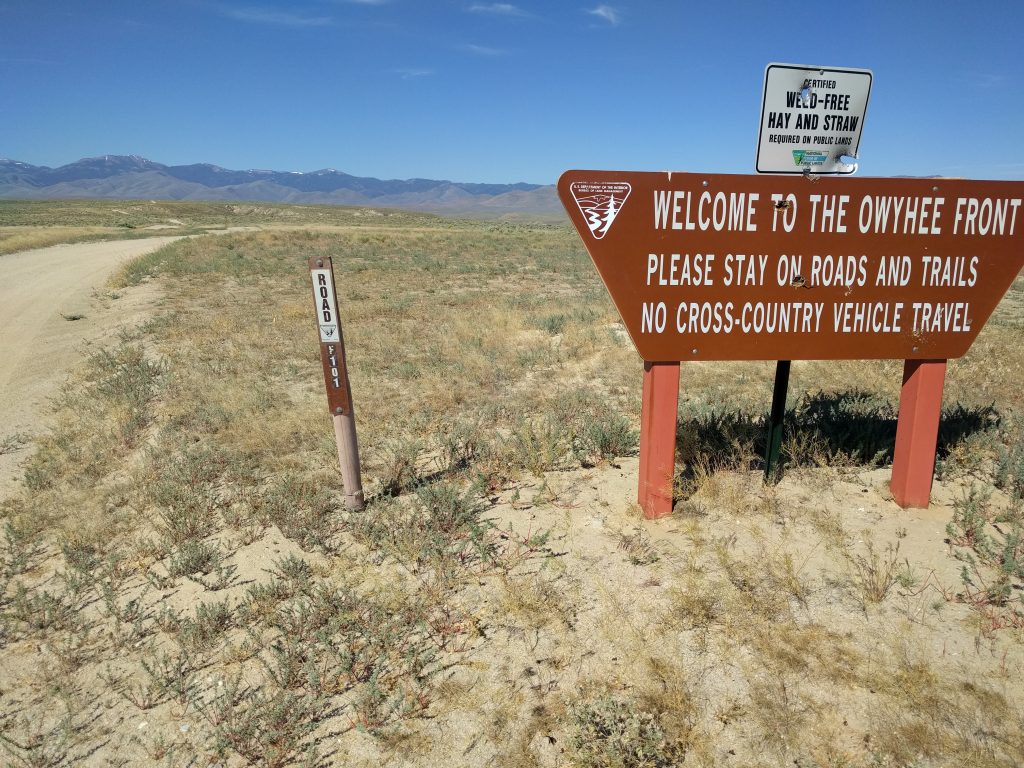 The starting point for hiking to Red Mountain is 10 miles from the beginning of the road. How far you get on this road will be largely determined by your tires (off-road treads and 10-ply sidewalls are recommended), 4WD, high clearance and your nerves. As with any other dirt road in the Owyhees, do NOT travel on them if it has recently rained. The mud will cake on your tires and driving will be unsafe.
The first 5 miles of this road are decent until you get to a cattle guard. Immediately afterwards, the road drops down sharply with larger rocks near the crossing of Fossil Creek. From here on, the road varies significantly with many sections containing larger, sharp rocks. At about 8.5 miles, you'll have to cross through a gate (close behind you) and cross over Bates Creek. While Bates Creek was not very deep in summer and fall, it could be unpassable during the Spring. Continue for another 2 miles until just before the road dips sharply down into a section of clay. I chose not to continue any farther because driving through that clay (and possibly getting stuck) was not appealing.
Northeast R
idge
, Class 1-2
I climbed the peak on 10/27/2017. Hike along the primitive road following Picket Creek for about 2.5 miles.  From here, follow the ridge leading southwest towards the summit for another 2.2 miles.  From the summit you can see Quicksilver Mountain to the southwest, with Hayden Peak and Turntable Mountain to the west. This route covers 4.74 miles with 2,429 feet of elevation gain one way; 9 miles with 2,900 feet of elevation gain round trip.
Mountain Range: Owyhee Mountains
Longitude: -116.59239 Latitude: 42.96829
Share this post ...