Elevation: 11,682 ft
Prominence: 702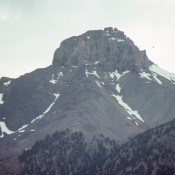 Climbing information for this peak is found on pages 286 and 287.
---
Mount McCaleb is one of Idaho's most prominent peaks when viewed from US-93 near MacKay, Idaho. Most people climb the peak via the saddle between it and Little Mac but there are a number of other interesting routes on the peak. The standard route climbs from the saddle between McCaleb and Little Mac. Larry Prescott provided the folowing clarification on access to the start of the route to the saddle. Larry writes: I think the most direct route to the base of the Mount McCaleb is neither the upper or lower Cedar Creeks roads; I have been on both. The best way is to turn right on Main Street in Mackay. Proceed to the foothill. Instead of curving right, stop at the green gate. The sign on the gate identifies the road leading up to a communications tower but there is no indication of trespassing. As always, make sure the gate is closed behind you.
Check out Larry's trip reports for some truly outstanding photos of his climbs.
---
While not as popular as the route from the Little Mac/Mount McCaleb saddle, the east ridge is an enjoyable and challenging scramble. Approach from Lower Cedar Creek and climb the first major gully leading up to toward the east face. Climb this talus filled gully to the east ridge. Follow the ridge toward the summit. The last 100 feet are quite steep and hovers between Class 3 and 4 in difficulty.
Mountain Range: Lost River Range
First Ascent Information:
First Ascent Year:

1914

Season:

Summer

Route:

Unknown

Party:

T.M. Bannon
Other First Ascent:

East Face

Year:

1962

Season:

Summer

Party:

Lyman Dye and A. Barnes

Other First Ascent:

East Ridge

Year:

1987

Season:

Summer

Party:

Tom Lopez and Dana Hansen
Longitude: -113.59811 Latitude: 43.99389
Share this post ...