Elevation: 10,190 ft
Prominence: 1,690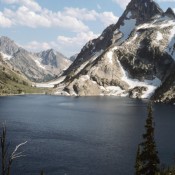 Climbing and access information for this peak is on Pages 159-160 of the book. The 2019 earthquake also rearranged the top of this iconic peak. Derek Percoski's report set out below discusses the changes to the upper east face. It appears the damage to the upper face up the rating for the Southeast Ridge/East Face to a solid Class 5. Connor Felletter provided the route information found below for avoiding the face and climbing the Southeast Ridge Direct. Finally, Joe Leonard describes the first Winter ascent of the peak in his article The Lost and Wandering. Updated October 2021
---
Mount Regan is perhaps the most photographed of all Sawtooth peaks. Its Northwest Face has graced dozens of calendars and book covers. It is a peak that is highly visible from many other Sawtooth peaks. Below you will find a few photos showing the Southeast Ridge Route and a lot of shots of the peak from different vantage points. USGS Stanley Lake
---
The Southeast Ridge route described in the book finished by detouring on to the east face. Derek Percoski reported that the recent earthquake that damaged many Sawtooth Range icons also rearranged the upper east face. His report follows. Connor Felletter provided an alternate way to avoid the upper east face. His description and photos of the complete Southeast Ridge route is set out below.
Derek Percoski Post Earthquake Report
More bad news about the Sawtooths. I don't believe a reasonable class-4 route up the summit block of Mt. Regan remains. Perhaps I missed something, but I looked around quite a bit and it took some questionable decisions to reach the top. Regardless of a climber's ability, the cruxes all involve loose dirt and rock sloping down toward deadly exposure. I think a 4+ rating bump would be a good idea along with a mention that the guidebook information won't be completely relevant once you reach the summit block.
There were around 10 summit register entries since the earthquake (of course they weren't all the same route). Some mentioned the mess and the inappropriate class-4 rating. The attached photo is an entry from a party that had climbed the peak both before and after the earthquake. I noticed later they marked NE ridge as their route. I know Brett was up there last summer. I'd be curious to hear others observations. It almost seems like that route should be shelved and it shouldn't be advised to show up to Regan without a rope expecting to scramble to the summit—but I'm just trying to start a discussion rather than dictate anything.
If I were to speculate, it looks like taking the SE ridge up then making a 300' trad ascent of the south face of the summit block seems like a more enjoyable alternative.
---
North Ridge,
Class 5.2
See Greg Parker's trip report for the details.
---
Southeast Ridge/Upper East Face, Class 3-4
This is the first ascent route, completed by the Underhills and Dave Williams. It is also the described in the book. The following photos document the route.
---
Southeast Ridge Direct, Class 5 by Connor Felletter
Having read the Derek Percoski report about the earthquake damage on Regan, I climbed the route today and would say it was 4th with a few 5th moves. I would recommend anyone nervous about down climbing at this grade bring some rope to use the tat rap anchors. I couldn't see evidence of any damage/recent rock changes. I climbed the slab directly in the center at 4th encountering one tat rap anchor. I then went right/south along a sloping ledge. Turning up the ridge I eventually had to do 15′ of 5th moves with minimal exposure to regain hiking territory. There was a tat rap anchor above this. I down climbed directly on the slab encountering an additional rap anchor and a few low 5th moves.
---
A photo tour of the many faces of Mount Regan.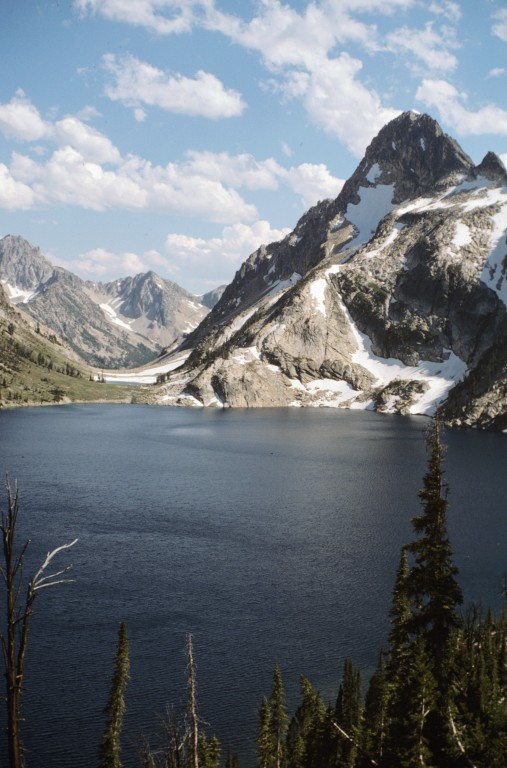 Mountain Range: Sawtooth Range
First Ascent Information:
First Ascent Year:

1934

Season:

Summer

Route:

Southeast Ridge (Class 4)

Party:

Robert Underhill, Merriam Underhill and Dave Williams.
Other First Ascent:

First Winter Ascent

Year:

1971

Season:

Winter

Party:

Joe Leonard, Norm Garrison, Ron Sergent and Bill Weaver
Longitude: -115.0661586 Latitude: 44.15978
Share this post ...