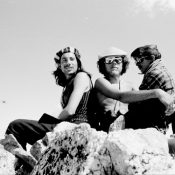 When I started climbing in Idaho's Sawtooth Mountains in 1970, there was no guidebook for the range, or any other range in Idaho. There were no modern USGS maps of the Sawtooths until 1972, but we did have Forest Service maps which showed trails and the approximate locations of some of the highest peaks. There was some printed information on climbs and climbing in the Sawtooth Range, but it was in older issues of the American Alpine Journal and in yearly publications put out by climbing clubs in the Midwest or Eastern U.S.
A few Ketchum/Sun Valley residents were experienced climbers and knew details about some climbing routes in the range, but it didn't seem right for us to approach our elders and beg for information. We didn't seek out beta, since knowing too much about a mountain or a route on it spoiled the adventure and we all enjoyed adventures.
We learned to study a mountain for possible routes, gauge the difficulty and danger, and when weather conditions looked right, go for it. Of course, we had fiascoes, but suffered no serious injuries, and we often enjoyed success, sometimes learning the name of a peak and its climbing history from a jar inside a summit cairn, containing a short list of previous ascents.
Our 1970 ascent of 10,190-foot Mount Regan, near Sawtooth Lake, set the tone for our later more-challenging climbs in the Sawtooth and Pioneer Ranges. It was all so easy for four novice climbers. We hiked into Sawtooth Lake and located Mt. Regan with the help of a Forest Service map. That evening, camped under the peak, we decided on a logical route, and the next morning we got up and climbed it. Here's the peak and Sawtooth Lake from the north. We scrambled slabs to the right of the largest snowfield to the north ridge on the right, then worked up the ridge. Along the way, we did employ my 120-foot nylon Goldline rope for a Tyrolian traverse.
Of course, climbers now have an abundance of beta, with detailed maps, guidebooks, topos, internet information on the peak or route, GPS's, cell phones, updated weather reports, and just in case, Satellite Rescue Beacons. It seems like all of that might spoil the adventure, and I do appreciate the fact that many Idaho climbers manage routes and peaks, without using all of the above.
I love Idaho's mountains, but must note that even though they can seem large and challenging, we have it pretty easy here. For the most part, the terrain is open. We don't suffer as much precipitation as Northwest climbers do and, of course, we don't have glaciers to navigate. Robert Underhill, who was likely the most experienced and well-traveled American climber of the 1930's, wrote about he and his wife's adventures in the Sawtooth and White Cloud Ranges during the summers of 1934 and 1935. He summed conditions up in the 1935 issue of Appalachia,
"The major Sawtooth peaks are between 10,000 feet and 11,000 feet high. The mountain valleys from which those peaks rise immediately may be situated anywhere from 8,000 feet to 9,000 feet. In terms of elevation, therefore, the climbs generally amount to very little. Furthermore, it may as well be confessed at once that, on average, they are not difficult…. Nevertheless, I think there is quite a lot here to engage the interest of the rock climber as such – though, to be sure, he should be a rock climber who is willing for the moment to turn aside from long expeditions to shorter days spent largely in the lighter exercise of his craft—and preferably one who is content to accept as part of his reward the great charm of the country and of the camp life it permits….. "
He continued,
"Add to this that the entire region is one of unusual attractiveness.   It is well weeded in the valleys and on the lower slopes, but seldom with underbrush or in such fashion that progress is really hindered. "Bushwhacking," in short, is almost unknown. There is an abundance of streams and of delightful little lakes and ponds."
During the summer of 2019, I noted that some peakbaggers are not satisfied with what we "old-timers" consider an incredible amount of information on peaks in the Lost River Range. On Facebook and the Idaho Outdoor Forum, some made pleas for more route information on hiking Lost River Range peaks and were usually humored by other climbers eager to please.
The minor mountains here are so great for mild to slightly wild adventure, sans guidebooks and topos, that we would like you to try some in the same way that we enjoyed it in the last century: as an adventure.
Try it, you might even like it—-old Idaho style.
Share this post ...