Elevation: 6,265 ft
Prominence: 820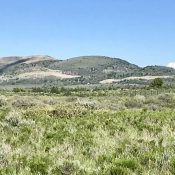 This peak is not in the book. Published January 2020
---
North Junipers HP is the high point is the high point of the St. Anthony Sand Dunes, a unique geological feature in southeast Idaho with five ranked peaks. North Junipers HP is located in the North Junipers Hills area of the Sand Dunes. As described by the Bureau of Land Management (BLM):
The St. Anthony Sand Dunes consists of 10,600 acres of clear, shifting, white quartz sand. Although much of the sand dunes is managed as a wilderness study area, the area is popular for OHV use. Dunes up to 400 feet high attract riders from throughout the west. OHV users are strongly encouraged to avoid damage to vegetation and impacts to wildlife so that use of this unique area may continue. Others prefer to explore the dunes on horseback or on foot.
The dunes are heavily marketed to off-road enthusiasts and are a very popular destination and play area. We visited midweek during the off season. However, several different closures exist for this area, so check the BLM's official St. Anthony Sand Dunes page and/or call to assure the area you want to access is open. USGS Big Grassy Ridge
We accessed this peak with a high-clearance 4WD vehicle (Toyota FJ). However, it was not the easiest to travel and we could not get as close to the peak as we planned, though we were probably lucky to get in as far as we did. Few services (i.e., gas/food) are available outside of Parker, and there are no water sources and little-to-no shade in the sand dunes. Time your trip and prepare accordingly.
---
Access
Access the west ridge of North Junipers HP from the northwest. Traveling from the east, south, or west, head toward Parker, Idaho. Once you reach or are near Parker, head toward the Parker-Salem Road (N 1900 E), which travels north-south and turns into Red Road. Turn west from Red Road onto Grassy Ridge Road. As you travel along this road, pass a couple of jeep trails that head SSW toward the North Junipers HP. These trails travel toward or parallel the North Junipers Hills and either braid onto other trails or dead-end, depending on the particular jeep trail.
In general, you will be "winging it" on these trails. Though on any of the jeep trails throughout the sand dunes, choices at intersections and/or hills you encounter may or may not work for you or your vehicle. We found the most direct trail to the west ridge of North Junipers HP off Grassy Ridge Road at 44.074496N, -111.892490W. Continue west on this trail as it eventually turns southwest, then south and then southeast toward North Junipers' west ridge.
While we were still on the north side of the North Junipers on this particular trail, we had a dicey, steep climb in deep sand that we had to take a run at multiple times. At this point, we were still a long way from where we wanted to start hiking. But once we reached the top of this particular hill, we were able to drive within reasonable hiking distance of the high point. There may be another way around that avoids this hill, but we did not look for it. In general, travel is very slow going over various depths of sand, rock outcrops and rolling terrain. If you have concerns about your vehicle's ability to navigate in sand dunes, consider renting a dune buggy. On your way to North Junipers HP, you can also climb Peak 5961 a little farther to the west of the jeep trail.
---
West Ridge, Class 2
If you make it to the base of the west ridge, use the jeep trail and climb the first ascent on the ridge. Here, find a trail to the east with a signed closure (no motorized travel) that continues upward. This trail makes for easy travel for the first part of the climb. When the trail begins to disappear, continue off-trail and pick your route toward and over a false summit. Here you will clearly see the true summit and you can hike your way to it. Trip stats: 3.1 miles with 820 feet of elevation gain.
Mountain Range: Snake River Plain
Longitude: -111.87859 Latitude: 44.05179
Share this post ...