Elevation: 9,970 ft
Prominence: 1,378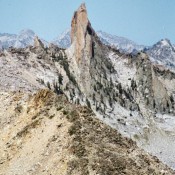 Climbing and access information for this peak is on Page 204 of the book. Brian Fedigan and Mike McClure climbed the peak in 2020. Brian's trip report is set out below. The North Raker's summit spire, unlike Baron Spire, survived the 2020 earthquakes. Updated August 2020
---
Perhaps no other Idaho peak is more mysterious than North Raker. The Rakers first caught the attention of the Underhills in 1934. The first ascent took another 15 years when it was climbed by Fred Beckey and Pete Schoening in 1949. The Rakers are in remote, trail-less country. I believe the peak has only been climbed 7 times since the first ascent. I have only viewed the Rakers from a distance, with the summit of Blacknose Mountain as my closest vantage point. Ray Brooks has provided several photos on this page from his explorations of the area. Enjoy. USGS Mount Everly
Raker Access Article by Ray Brooks.
---
Brian Fedigan and Mike McClure conquered the peak this summer. Brian's trip report and photos are set out below.
"Mike McClure and I ascended the North Raker. We both onsighted the route; don't know if it was a first free ascent or not. We scrambled to the notch mostly 4th class with some 5th class moves in there. We took off our approach shoes and racked up. We traversed about 100 feet to into a notch. This pitch was loose 5.8. We set up a belay and than Mike led off. He stepped on a large loose flake and traversed downward to gain the large crack. There was several large loose chockstones in the crack. The crack varied from hands to offwidth. We used most #3s and #2s to protect the pitch. There were two old pitons, and one old button head bolt. There was a new bolt located at the widest section of the crack. We were able to fist jam, hand stack and chicken wing through this section. There were several small foot holds that allowed us to surmount this section. The crack was steep in the wide section, but the angle decreased before coming to a large ledge. From here there was about 20 feet to the summit. We rapped off the summit to the notch. We than lead out of the notch back toward the false summit. We than unroped and downclimbed to the saddle. The crux pitch was mid to hard 5.10."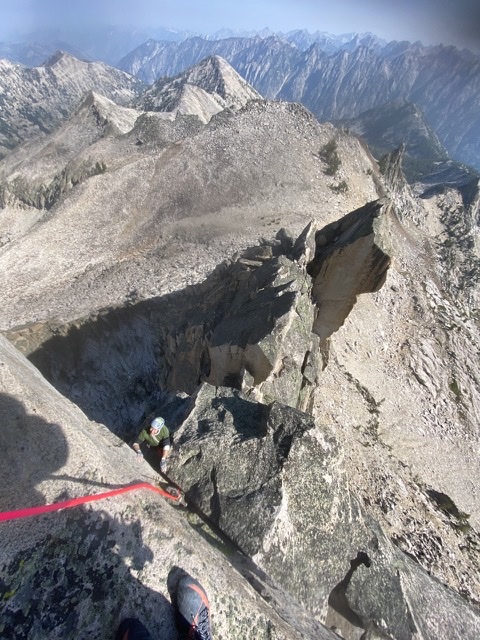 Mountain Range: Sawtooth Range
Longitude: -115.105567 Latitude: 43.995288
Photos: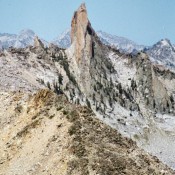 Share this post ...