Elevation: 11,887 ft
Prominence: 1,547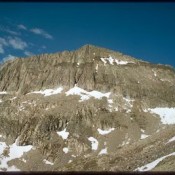 Climbing information for this 11er peak is found on page 254. Derek Percoski has provided information below that discusses the difficulty identifying the true summit and on the route up the peak's south ridge. Updated September 2019
---
The ridge route described in the book is one of the best ridge climbs in the state. The route finding is complicated. It takes all you got to find the summit (see Derek's update below) following the route in the book.You can easily find yourself on 4th or 5th Class terrain if you are not careful. If the climbing exceeds Class 3 you are off route. The summit will reward you efforts with a fantastic view.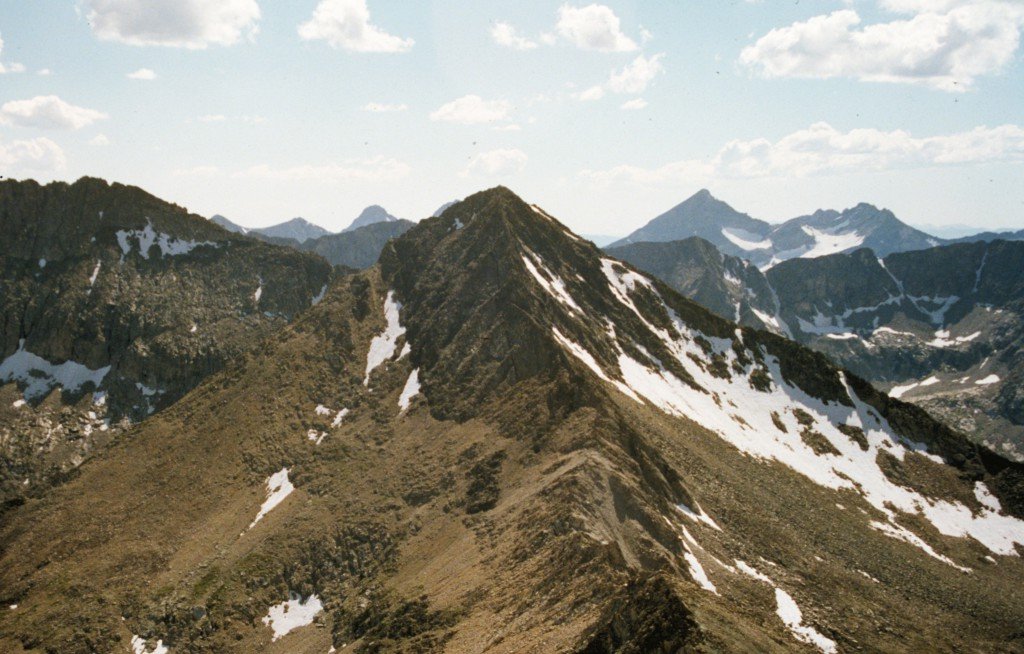 ---
The Fin Updates by Derek Percoski 
It should be noted there are two summit candidates for this peak that are 850' apart. Both have an 11880' contour and the smaller of the two includes a spot elevation of 11887'. To those looking at maps, this is accepted as the summit and that's the peak's elevation. On scene, the north summit appears higher from every perspective, and includes a small tower within that larger contour area. With an elevation range of 11,880-11,920, this would put The Fin's (mean) elevation at 11,900' if that were accepted as the highpoint. A detail-oriented climber should visit both if they want to be sure their summit "counts". Anyone who has worked on County Highpoint lists is familiar with this game. The connection between these points is fairly challenging class3 terrain.
South Ridge, Class 2
Access
Fall Creek Trail 045 to Fall Creek Spur Trail 045.1
If a hiker wanted to summit The Fin without doing any scrambling, it is possible via an 8 mile hike up Fall Creek. From the Recess/Fin saddle it's a simple walk up to the south summit, where the 11,887' spot elevation is located. Getting to the north summit (see above explanation) requires a challenging Class 3 traverse.
Mountain Range: Pioneer Mountains
Longitude: -114.030224 Latitude: 43.77485
Share this post ...