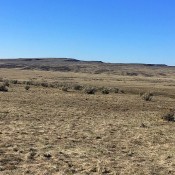 This peak is not in the book. Updated September 2019.
---
Jackson School Butte is located northeast of Mountain Home, Idaho, and south of US-20. This broad butte is approachable from any direction but private property and access issues make the easiest ascent routes from either the north via US-20 and the access to John Hoffman Reservoir or from the northeast via NE Teapot Road, which runs along the peak's east side. Both accesses keep you on BLM-managed public land.
---
North Access and Approach
For the north approach, take US-20 north and then east from I-15, Exit 95, for approximately 4.8 miles to a gravel road that leads to John Hoffman Reservoir. Highway 20 can be very busy and turning off abruptly here may be difficult, so plan ahead. Follow this road through an open gate on BLM-managed public land. Orange markers along the fence (9-2019), which can be mistaken from the road as trespass markers, actually indicate an underground buried cable.
Follow the gravel road southeast, then south, passing by the junction to the reservoir, until you reach an east heading gravel road. Use this short road, which is likely used to release cattle, until it peters out. Park here. A high clearance 4WD will easily get you to this point. From here, hike south aiming for higher ground. As you get closer, head toward the short rocky cliff walls that surround the summit. There are a number of spots to pass through these short cliffs. Once through enjoy the views from the broad flat summit.
The north approach (contributed by Steve & Margo Mandella) was approximately 2 miles roundtrip and 382 feet of elevation gain.
---
Northeast Access and Approach
For the northeast approach, take US-20 north and then east from I-15, Exit 95, and for 7.2 miles where you will reach the NE Teapot Road. Turn right and follow NE Teapot Road south. When there are no longer fences on either side of the road you have reached public lands. Park anywhere from this point on and hike across the flats to the butte. My route, shown below, covered 3.8 miles with 400 feet of elevation gain. We had to crawl under one range fence along the way.
Whichever way you climb the butte, take a moment to stop at the interpretive monument off Highway 20 where Jackson School used to stand and read about its history.
---
Make a Day of It
While you're in the area, combine a climb of Jackson School Butte with nearby Teapot Dome and Peak 5268!
USGS Topo: Teapot Dome
Mountain Range: Snake River Plain
Longitude: -115.57429 Latitude: 43.17219
Share this post ...