Elevation: 7,906 ft
Prominence: 506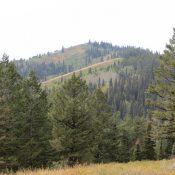 This peak is not in the book. Margo Mandella authored the original entry for this peak. Subsequently, Livingston Douglas provided a new take on reaching this peak of which he reports "This is a difficult mountain to reach due to the thick bushwhacking required."  Rather than combining their narratives, I have included both. Updated January 2023
---
Peak 7906 by Margo Mandella
Peak 7906 is on the southeast side of the Big Hole Mountains. The summit is located a little more than 0.5 mile from Squirrel Mountain. The most direct route to the summit is from the east side of the range, which is west of Victor, Idaho. USGS Fourth of July Peak
Access
From Victor, travel west on ID-31 to W 9000 South. Turn north on South 4500 West and continue to Grove Creek Road. Use FSR-546, which will become FSR-237 to begin your hike.
Northeast Slopes, Class 2
Ascend the trail westward until you encounter the Big Hole Crest Trail/FST-217, which runs north and south. Hike north on this trail. Continue as the trail descends to a saddle where you will reach a junction. At this junction, the Big Hole Crest Trail/FST-217 continues north to Squirrel Mountain and the Corral Crest Trail/FST-076/FST-240 goes west toward Peak 7906.
Go northwest on FST-076/FST-240 and steeply descend until you reach an intersection at the base of Peak 7906. Turn southwest on FST-076/FST-240 (but remember this intersection, as you will return to it after summitting Peak 79060).
As you hike the trail, continue to assess the terrain and vegetation on the peak until you reach the base of a ridge that is fairly clear of vegetation and begin hiking off trail. As you gain elevation, the summit will come into view and you can use it to help you navigate around some densely vegetated and forested sections that are common in these lower-elevation peaks.
After summitting Peak 7906, drop back down to FST-076/FST-240 and backtrack (northeast) until you return to the intersection mentioned earlier. Turn southeast and begin a steep ascent that takes you back to the intersection of the Corral Crest Trail and the Big Hole Crest Trail (FST-217). Backtrack on FST-217 to FST-237 and the Grove Creek trailhead.
We did this peak as part of a 3-peak loop originating from the Drake Creek trailhead. Read more about that trip and view the GPS track on the Squirrel Mountain page.
---
Peak 7906 by Livingston Douglas
Peak 7906 is located southwest of Squirrel Mountain (7,780 feet) and west of the main north-south ridge crest. It separates Corral Creek from Red Creek and sits at the head of Pleasant Hollow. Peak 7906 requires a rough bushwhack from Squirrel Mountain. This is the second leg of a 2-peak journey that includes Squirrel Mountain and Peak 7906.
Access
Same as for Squirrel Mountain. This is the second leg of a 2-peak adventure.
Northeast Face, Class 2
The Climb
From the 7,400-foot connecting saddle with Squirrel Mountain, bushwhack southwest through a pine forest that is thick with brush, bushes, and blowdown. Higher up, angle left/east to find some relief on a ridge crest. You will eventually reach open terrain and easy scrub (with scattered mountain mahogany) on a lateral ridge that must be crossed in order to reach the true summit. From that ridge, descend 40-45 feet in open scrub and brush to a forested saddle. From the saddle, bushwhack southwest in semi-open pine forest (with pesky underbrush in spots) to reach the open summit of Peak 7906. There is a small cairn on the summit.
East Shoulder, Class 2
The Descent
From the summit, return northeast to the lateral ridge then descend its easy open scrub (with some loose gravel/dirt/scree) east-southeast then southeast to quickly reach the Corral Creek drainage and FST-240. Hike left/northeast up the trail to a junction with FST-237. Follow FST-237 right/southeast and quickly reach a "T" junction with FST-217 on the main north-south ridgeline. Follow FST-217 south to its signed junction with the Drake Creek Trail/FST-238. Hike east down FST-238 for 1.5 miles to the Drake Creek trailhead and your parked vehicle.
Mountain Range: Big Hole and Snake River Mountains
Longitude: -111.24259 Latitude: 43.60509
Share this post ...