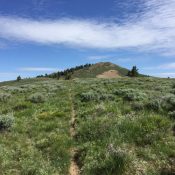 This Peak is not in the book.
---
Peak 8180, also known as Salt Creek Peak, sits on the north side of the Soldier Mountains crest and west of Crouch Summit in the Sawtooth National Forest.
The views of the Soldier Mountains, Boise Mountains and Smoky Mountains in this area are massive and terrific and include, among many other notable summits, Steele Mountain, Ross Peak, Two Point Mountain, and Big Mountain, as well as the main Soldier Mountain crest from Peak 1 in the east to Iron Mountain in the west.
Climb the peak from FS-010 where it crosses the peak's south ridge. There is an overgrown road that follows the top of the ridge a short ways and then turns into a game trail that leads to within 50 feet of the summit. Other than patches of thick sagebrush, you can climb this peak from almost any direction. A road parallels the peak's western slopes an offers an alternative starting point.
My GPS recorded 1.2 miles and 459 feet of gain.
Class 1+
USGS Topo: Sydney Butte
Access
To access this area from Fairfield, Idaho and ID-20, turn off ID-20 and drive through downtown Fairfield to a three-way junction. Turn right on Baseline Road and drive 0.3 miles and then turn left onto Soldier Creek Road. Follow this paved road for 7.5 miles to the signed junction for the Couch Summit Road. This well-maintained gravel road reaches Couch Summit in 4.3 miles. At this pass, turn left onto FS-010 and follow this (also) well-maintained road for 4.6 miles to a large meadow that sits between Salt Creek Peak, Basque Peak, and Gora Euzkotarak Peak. FS-010 is a surprisingly good road and, when dry, most vehicles will be able to traverse it.
Mountain Range: Soldier Mountains
Longitude: -114.85759 Latitude: 43.54949
Share this post ...