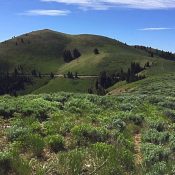 This peak is not in the book.
---
Peak 8238, also known as Gora Euzkotarak Peak, is located north of the main crest of the Soldier Mountains in the Boise National Forest. The peak is located in a very scenic area with giant views of the surrounding mountains and countryside. A carved marker on the summit contains the words Gora Euzkotarak, which I assume is a name picked by a Basque sheep herder as this area is used for sheep grazing every summer and many Basque came to Idaho as sheep herders.
The Basque words translate as follows: Gora = Rise Up and Euzkotarak = Patriot. Thanks to Dan Robbins of Idaho Summits for finding the interpretation.
Access
To access this peak from Fairfield, Idaho, and ID-20, turn off ID-20 and drive through downtown Fairfield to a three-way junction. Here, turn right on Baseline Road and drive 0.3 miles and then turn left onto Soldier Creek Road. Follow this paved road for 7.5 miles to the signed junction for the Couch Summit Road. This well-maintained gravel road reaches Couch Summit in 4.3 miles. At this pass, turn left onto FS-010 and follow this well-maintained road for 4.6 miles to a large meadow that sits between Salt Creek Peak, Basque Peak, and Gora Euzkotarak Peak. FS-010 is a surprisingly good road and, when dry, most passenger vehicles will be able to traverse it.
A closed 4WD road climbs from FS-010 up the peak's northwest slopes, nearly to the summit. Follow this road untill it steepens and then traverse upward to your left to the summit. My GPS reordered 0.6 miles and 479 feet of gain.
Class 2
USGS Topo: Sydney Butte
Mountain Range: Soldier Mountains
Longitude: -114.84659 Latitude: 43.53201
Share this post ...