Elevation: 8,937 ft
Prominence: 437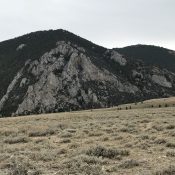 This peak is not in the book. Margo Mandella and Livingston Douglas have provided two takes on climbing this peak. Margo combined this peak with Peak 9053. Livingston combined this peak with three others: Peak 9053, Spring Hill (9,449 feet) and Peak 8860.
---
Margo Mandella's Trip Report
Peak 8937 lies at the east end of Christian Gulch in the Lost River Range. Peak 8937's west face has an imposing rock wall. Class 2 approaches are from the north and south. The south approach is relatively treeless and provides nice views of the Lost River Range peaks throughout the climb. We climbed Peak 8937 as a loop with Peak 9053 to the south. Another ranked peak (Spring Hill) can be added to this loop route. If the weather had been better, we would have bagged that one too. You can also drive a 4WD to the base of Spring Hill from the south. From there, you can crawl toward both Peak 8937 and Peak 9053, shortening the climb of all three peaks. USGS Doublespring
Access
From Mackay, Idaho, travel northwest on US-93 until you reach a junction with Doublespring Pass Road (116 on Google Maps). Travel north on Doublespring Pass Road until you reach a well-defined 4WD road that Google shows as 307. Take 307 until you reach 308. Look north as you travel on 308 and park off the road across from the lower mountain where you would like to ascend. We did not need a 4WD to reach our starting point. However, you do need a 4WD if you continue to drive up 308. For an alternative access route to this peak, see the page for Spring Hill.
South Ridge Route, Class 2
The lower part of Peak 8937 is also the steepest section. However, it is short and the footing is excellent. There is no trail on this peak, but the route is straightforward. Once you reach the top of the lower ridge, continue east then north toward Point 8836, staying on the east side of the trees. Skirt Point 8836 and continue north to the summit of Peak 8937. As you proceed, you intersect a faint jeep trail that goes close to the summit. There is a small cairn on top.
We combined our climb of Peak 8937 with Peak 9053 to the south. Our GPS track below is missing the descent from Peak 9053 to our vehicle. We descended via the west gully, right near the "T" in Forest on the track. From the summit, you have nice views of the north side of both Mount Borah and Mountaineer Peak as well as other surrounding 10K and 11K peaks.
Trip stats for both peaks (without the final leg to the vehicle): 5.84 miles with 2,370 feet of elevation gain.
---
Livingston Douglas' Trip Report
Peak 8937 is a ridgeline summit that is located across Doublespring Pass Road from the mouth of Christian Gulch. Its west face is particularly intimidating. This is the final leg of a 4-peak adventure that includes Peak 9053, Spring Hill (9,449 feet), Peak 8860, and Peak 8937. It covers 12.0 miles with 4,175 feet of elevation gain round trip.
Access
Same as for Peak 9053. This is the final leg of a 4-peak journey.
Southeast Spur/South Ridge, Class 1
The Climb
From the 8,500-foot connecting saddle with Peak 8860, follow a weak 2-track road (not shown on maps) northwest over a shoulder and down to another 8,500-foot saddle. Continue hiking northwest along the road until it reaches the south ridge of Peak 8937 at a ridge saddle just north of Point 8836. Hike north on the 2-track to reach the summit of Peak 8937. The summit has a large tree and a decent cairn with a post in it.
South Ridge/West Spur, Class 2
The Descent
From the summit, follow a 2-track road south to the saddle just north of Point 8836. Leave the road here and scramble south to the top of Point 8836 through scrub, talus, and rocky outcrops. From Point 8836, follow the ridge crest south on superb terrain of open grass and scrub all the way down to an obvious spur ridge that bends right/southwest to head down to the valley floor. This spur ridge follows the north side of a gully that leads west to Doublespring Pass Road.
The west spur has some rocky buttresses but is easy to descend on open grass then a short patch of easy pine forest that ends just above a scrub saddle (7,620 feet) and a ridge hump. Leave the west spur at this saddle and descend left/south down steep scrub and gravel to reach the dry gully and thicker sagebrush. Aim southwest for a cistern that is obvious from the ridge. Bushwhack through gapped sagebrush to reach the cistern. Follow the 2-track road from the cistern southwest then west back to the road junction at Doublespring Pass Road and your parked vehicle.
Mountain Range: Lost River Range
Longitude: -113.78629 Latitude: 44.30349
Share this post ...