Elevation: 9,380 ft
Prominence: 280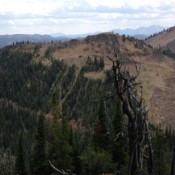 This peak is not found in the book. It sits between Estes Mountain and Mount Greylock north of the Yankee Fork town site. It is 1.2 miles SSE of Estes and 0.8 miles north of Mount Greylock. USGS Quad–Custer
---
(Class 2) I climbed the peak in 2014 with Gilbert Gallegos and Andrew Chiles from the saddle south of Estes Mountain. The summit is 1.4 miles south of the parking spot described below (as the wolf walks) with an elevation gain that will vary depending on whether you cross over or skirt Peak 9366. Access to the ridge is set out below.
The following access information expands on the access information in the book Start on (F)(3.2) Loon Creek Summit Road which begins just north of the Yankee Fork Dredge. From this road you can access the ridge between Estes Peak and Mount Greylock via a road that, as far as I know, does not have a Forest Service number designation. I will designated as FS-3.2.2, Estes Mining Road. This road leaves (F)(3.2) 5.1 miles north of the beginning of the Loon Creek Summit Road. The Forest Service map and the USGS Quad show this road as a jeep trail but in fact it is a well maintained, albeit steep, road that leads up and over the ridge to the east. Turn right onto this road and drive 2.4 miles to the ridge top where you will find parking and a spot to make a pleasant dry car camp.
USGS Custer
Mountain Range: Salmon River Mountains
Longitude: -114.69469 Latitude: 44.43149
Share this post ...