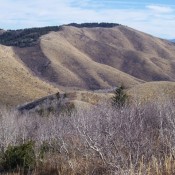 I have grouped these mountains with the Bannock Range partly out of convenience and partly because they are part of the disparate ranges at the southern end of the Bannock Range; the Malad Range, the Samaria Mountains and the North Promontory Range. The Pleasantview Hills are in reality a separate mountain range. The range's crest forms a low north-south mountain divide in the Onieda County section of southeastern Idaho just north of the Idaho/Nevada border. The Arbon Valley borders the range on its western flank. Malad, Idaho and the Bannock Range are found east of the range and the Samaria Mountains are located to the southeast.
There are a few (more appropriate references in my opinion) to this uplifted area as the Pleasantview Mountains but the official name classifies the group as hills. Despite the name, this area contains 29 ranked peaks according to Lists of John. The range is 25 miles long and 10 miles wide at is widest point. The highest point is John Evans Mountain at 7,420 feet.
The peaks in the range that reach over 7,000 feet support Douglas fir forests and aspen groves, while the lower hills are mostly brush covered. Pleasantview Hills is in the Great Basin physiographic provence and have similarities with many Nevada ranges. Cattle grazing and hunting are by far the most predominant activities.
The entire area has a well developed network of roads, but they are all of the 4WD variety. The first wagon road to cross the range (at Jensen Pass) was the emigrant Hudspeth Cutoff of the California Trail in 1849. The bulk of the range is on contiguous BLM land but there is private land scattered about. The BLM has a brochure covering the area which provides a good overview for planning purposes.
Thanks to Rick Baugher for teaching about this nice mountain grouping on public land and providing me with much of the information contained herein.
Mountain Range: Bannock Range
Share this post ...