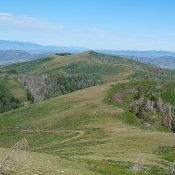 The Samaria Mountains are briefly covered in the book on Page 357. Updated June 2020
---
This small, attractive mountain range is located on the Idaho/Utah border just west of 1-15. The range's high point is on Samaria Mountain (7,795 feet). Peak 7695 is another high range vantage point worth visiting because of its expansive views. The first Mormon settlers in this area adopted the name, which has its origins in Palestine. The early settlers were renowned for their hospitality to travelers. They were quintessential "Good Samaritans."
The Samaria Mountains are linked to the Bannock Range via a long spur ridge, known as the Pleasantview Hills, which runs north for nearly 30 miles to connect the two ranges. The range is administered by the Burley District of the BLM.
The Samaria Mountains are characterized by twisting canyons, high, broad grassy ridges. There are healthy forested patches found on northern slopes. The views from high ridges are expansive and include a huge section of southeast Idaho and views of the many northern Utah mountain ranges and the Great Salt Lake,
To approach this small mountain range, you will need the BLM's Malad City land status map. The roads shown on that map are accurate. The only recommended approach route into this group is BLM-614. This road traverses the range crossing Gardner Canyon on the east side of the range, then crossing the high, southern slopes of Samaria Mountain and finally descending south down North Canyon Road where it connects with the maintained Middle Canyon Road on the Idaho/Utah border. The Gardner Canyon portion of BLM-614 is a more direct route into the range from a paved road. It a 4WD road. The North Canyon portion of BLM-614 is a less rugged approach. Nevertheless, a 4WD is recommended. All of the roads in the range will require a 4WD when wet conditions exist. While there are no hiking trails at present, the open nature of the terrain makes for good hiking on the ridge lines.
Mountain Range: Bannock Range
Share this post ...