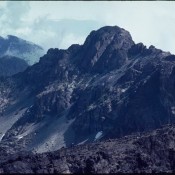 The Seven Devils Mountains extend along the Idaho/Oregon border for roughly 40 miles between the towns of Whitebird and Council. They are bounded by the Snake River on the west and the Salmon and Little Salmon Rivers on the east. The range, which ranks high among Idaho's mountain chains in terms of ruggedness and scenic quality, is the state's most precipitous range. Elevations vary from just above 1,000 feet along the Snake River to 9,393 feet on the summit of He Devil. There are lots of challenging peaks in the range including well-known peaks like The Tower of Babel and She Devil to lesser-known peaks like the Devils Throne and Peak 8720. There are many peaks worth climbing in the southern Seven Devils with Monument Peak as the crowning point. Here is a link to an article I published in Summit Magazine in 1984: Fire and Brimstone: The Seven Devils Mountains.
Access Updates
Southern Seven Devils. The range, its peaks and access are discussed in detail on Pages 95-105 of the book. Use this link for updated information on access to the southern Seven Devils: Southern Devils Access. 
Goat Pass Crosscountry Route. In addition to the extensive trail system, there is an unofficial fisherman/climbers' route that leads from Windy Saddle to Sheep Lake. This route passes over Goat Pass [(A)(3)(b) Page 104].
Seven Devils Loop Trail. There is a lot of great hiking in the range and the Seven Devils Loop Trail is one of the premier loop hikes in Idaho.  Use this link to check out Tom Cox's 2016 trip report on hiking the loop.
Photos
Mountain Range: Seven Devil Mountains
Share this post ...