Elevation: 10,095 ft
Prominence: 3,275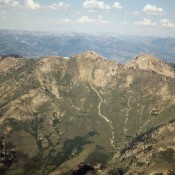 Climbing information for this p2k peak, the highest Soldier Mountains summit, is found on page 215. The book lists the Grand Tour Route which begins near the Soldier Mountain Ski Area. Below you will find additional route details. There is also additional information on the traverse between Smoky Dome and North Smoky Dome set out below. Updated July 2018
---
This big mountain is one of the largest mountain masses in Idaho. Because of its feet of prominence it is a popular summit for prominence baggers. The Southwest Face Route listed below has become the most popular route to the top.
Southwest Face, Class 2, (Adopted from entries on peakbagger.com)
Access
From Fairfield and ID-20 drive north through downtown for 1.8 miles. Turn and left onto 200N. Continue west on 200N for 10.3. Turn right onto 1100W. Zero out your odometer. Follow 100W north for 1.0 and turn left onto the Chimney Creek Road. After 1.5 miles reached a gate. At mile 5.1 miles Continue straight through another gate and marked as FS-484. There are corrals at 8.9 miles and more corrals at 9.6 miles. Turn right onto a onto a rough. A 4WD is recommended from this point on. At 11.2 miles take the right fork the road quickly makes a hairpin turn At11.6 miles go left. At 12.0 miles park. The elevation here is 7,760 feet.
Route
From the parking area follow an ATV trail up to about 8,100 ft and then a game trail up into the drainage. At roughly 8,200 feet cross the creek. The route continues following game trails up toward the point marked as 9,884T. Cross below Point 9,884T on its right side. From the other side of Point 9,884 follow the ridge to the summit. It is a bit over 3.0 miles to the summit with 3,000 of elevation gain.
Read about Bob Bolton at this link. Bob Bolton.
Northeast Ridge, Class 2
The peak's northeast ridge climbs from the saddle between Smoky Dome and North Smoky Dome in less than 0.4 miles with around 500 feet of gain.  The saddle can ne reached from Soldier Creek or the north ridge of North Smoky Dome. See North Smoky Dome Access to reach the North Ridge of North Smoky Dome.
Mountain Range: Soldier Mountains
Longitude: -114.936256 Latitude: 43.493236
Photos: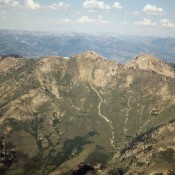 Share this post ...