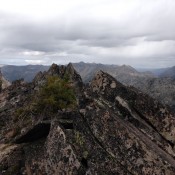 This subrange is discussed on Pages 111-116 of the book. Lick Creek Peaks found on this site significantly expand the books content. All peaks are found at this link: Lick Creek Peaks.
---
The name Lick Creek Range has not been adopted by the USGS. Nevertheless, many people use it to identify the divide that sits between the North Fork Payette River in the west and the South Fork Salmon River in the east. The north end of this subrange is bounded by the Warren Wagon Road and the Secesh River. In the south, the subrange terminates at the Warm Lake Highway. As such, this group of mountains comprises the largest of the Salmon River Mountains subranges, forming an impressive divide about 40 miles long from north-to-south and more than 20 miles wide at its widest point.
The highest Lick Creek Peaks are clustered at the range's north end. North Loon (9,322 feet) takes the honors as the highest of the bunch. The subrange includes over a hundred unnamed summits which are not in the book. As always, the lack of a name does not mean the peak is not worth climbing. I will continue to add these peaks as I climb them or others provide me with information.
The trails in this area vary greatly in their state of maintenance. Unfortunately, many miles of trail have disappeared due to neglect and damage caused by forest fires. Large sections of the subrange have burned over the last 25 years. The fires have opened up the country and the views and cross-country travel is a bit easier now.
In addition to the many peaks in the Lick Creek Range, there is a lot of good clean granite. Around Needles Peak, you can find an array of granite formations that have attracted rock climbers for years and host many bolted routes. Check out the Pins and Needles Climbing Guide for technical climbing routes. Even more famous is the formation known as Slick Rock, which has provided a proving ground for big wall climbers since the early 1970s.
Mountain Range: Western Salmon River Mountains
Share this post ...