Elevation: 6,894 ft
Prominence: 40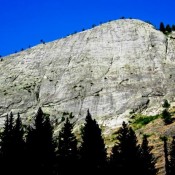 Slick Rock is an impressive, thousand-foot high, granite wall along the Yellow Pine Road [See (B)(3) on Page 136]. The following information was not included in the book because the book was limited to peaks and similar formations. Nevertheless, the wall is a favorite for Idaho rock climbers and a great place to train for technical climbing. I believe, but have not confirmed, that the first ascent of the Three Cracks Route (the Standard Route) took place in 1967 and that Harry Bowron and Jim Cockey were part of a 3-person team.
Harry Bowron, Bob Boyles, Mike Weber, Ray Brooks , Jim Cockey and others pioneered routes on the face in the early 1970s without documenting their climbs. Later climbers like Jason Cronk, Bob Gentry, Kevin Caudill, Allen Queen and Steve Bartlett have placed documented routes on the face. As a result, there is still a lot of Slick Rock climbing history and routes to document and/or sort out as my brief research has found 8+ named routes of which there may be some duplication that I cannot, as of yet, distinguish. Check out Mark Weber's excellent article, On Slick Rock, in Idaho Magazine for additional route and historical information.
Ray Brooks returned to Slick Rock after many years and climbed the Three Cracks Route in 2015. His trip report, SLICK ROCK 8/19/15 Regular Route aka Three Cracks Route by Ray Brooks with Mark Mason, serves as a great photographic route guide for that route. Steve Bartlett's Addendum to Three Cracks Route provides a lot of valuable information. Ray's topo set out below, shows 5 routes that existed in 1982.
Bob Boyles reports that he first climbed Slick Rock in October 1972. He states: "We went back many times over the next 10 years and put up 4 other routes that were undocumented so we assumed they were FAs. However, we did not document or photograph them (except for one) so I can't claim FAs. The last one we did is off to the left a bit and Mike and I thought it went around 5.10. Mike led out around 100 feet with one piece of pro around the 50 foot level. He would have grounded if he'd fallen off. If I'm ever up there again, I'll photograph it and see if I can find the others."
I have only climbed Slick Rock once by the Three Cracks Route and thus, I am not an expert. I am including routes that have been supplied by other climbers on separate pages. Please feel free to supply me with additional information that will help improve the route descriptions or document new routes.
Climbing is a dangerous activity:
ROUTES:
Three Cracks Route.  This is considered the Standard Route on the formation.
Caudill Queen King Route. This is a bolted route to the right of the Three Cracks Route.
Slippery Slope Route. This route is located to the left of the Three Cracks Route.
Scenic Traction Route. Pioneered by Steve Bartlett and Fran Bagenal.
Mountain Project has a lot of good Slick Rock route information.
Mountain Range: Western Salmon River Mountains
Longitude: -115.9493 Latitude: 44.9502
Share this post ...