Elevation: 12,200 ft
Prominence: 960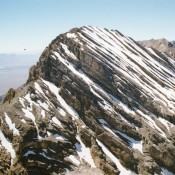 This peak is found on pages 277 to 278. Note the alternative approach that avoids Jones Creek and John Platt's new route on the west face.
---
Mount Church is located in the Lost River Mountain Range in the Challis National Forest. One of the nine Idaho 12ers, Mount Church is the 3rd tallest peak in the State of Idaho.
Mount Church offers a spectacular summit, which was rarely climbed before 1990. Now, it is a popular ascent by mountaineers seeking to climb all nine of Idaho's 12ers. Mount Church and Donaldson Peak are frequently summited together.
USGS Topo: Leatherman Peak
---
East Ridge Route, Class 3
The East Ridge is the standard route to the summit of Mount Church. There are a few obstacles on this route, but most people would agree that the crux of the climb is getting through the headwall to the Church – Donaldson saddle.
The traditional approach has been via Jones Creek [(B)(10), page 292 of Idaho – A Climbing Guide].
The challenage with this approach is that Jones Creek is a rugged, unstable drainage, which seems to vary each year. Spring run-off and healthy vegetation constantly changes the stream bottom's path and erodes the climbers' trail. The Climbing Guide discusses the traditional approach.
Recently, climbers have established a new approach in the next drainage to the north, which has been named, North Fork Jones Creek.
Access to the Headwall via North Fork Jones Creek
The North Fork Jones Creek approach is reached via Lone Cedar Creek. [(B)(9), page 292 of the Climbing Guide], which is shown in the map.
From the end of the road, a good trail leads toward the mouth of the canyon. Once in the canyon, the trail tread is marked and, for the most part, easy to follow.
Occasionally, the trail crosses the intermittent stream and at these spots you might need to look for a cairn to get you back on the tread.
Once you get above treeline, the choice to proceed is up to you. The route to the pond at the base of the headwall will be obvious from this vantage point.
The Donaldson Peak page has the route description and accompanying photos to show the climb from the pond, through the Church-Donaldson headwall, to the ridge/saddle between the two peaks.
From this point, follow the ridge to the summit of Donaldson, if you haven't climbed it, and then over to Mount Church.
Also, see Larry Prescott's trip report for additional photos and narrative.
---
West Face Direct, Class 4
John Platt and his friend Brian climbed the west face of Church, which I suspect was a first ascent. Check out John's trip report for details on this route.
---
Photos of Church from Various Vantage Points
Return to the Idaho 12ers page. 
Mountain Range: Lost River Range
Longitude: -113.7134 Latitude: 44.066
Share this post ...