Elevation: 11,857 ft
Prominence: 1,675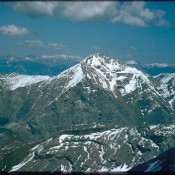 Climbing and access information for this peak is on Page 282 of the book. There are two routes listed in the book. Expanding on this information, you will find below the Northwest Gully/North Ridge Route set out in photos followed by photos of Pat McGrane's Complete North Ridge Route. At the bottom of the page is Brett Sergenian's trip report and GPS track for the Southwest Face Route. Updated July 2018
---
Mount Corruption is one of my favorite Idaho mountains. It is the 21st-highest peak in the State of Idaho. Back in 1992 when I climbed it, only Rick Baugher and I had shown any interest in what was then an unknown peak. Mount Corruption sits well off the main crest of the Lost River Range and this remoteness adds to its allure. The route I climbed on this peak is one of the most varied routes I have climbed in the Lost River Range. It includes a hidden route into a hanging valley, a huge talus slog, and an ascending knife-edged ridge with a Class 4 crack near the summit. Mount Corruption will test your stamina and your desire, but its rewards make it all worthwhile. USGS Leatherman Peak
Northwest Gully/North Ridge, Class 4
This is the route set out on Page 282 of the book. Pat McGrane's variation (below) avoids the tough talus scramble from the Northwest Gully to the top of the ridge. However, neither route avoids the Class 4 climbing on the upper ridge. The crux of this route is a 20-foot, nearly-vertical crack. Pat's route avoids the chimney but still crosses Class 4 terrain.
Complete North Ridge/White Slab Route, Class 4
Pat McGrane climbed the entire North Ridge joining the Northwest Gully/North Ridge at roughly 10,500 feet. Pat avoided the 20-foot crack that I climbed and used an exposed white slab on the West Side of the ridge. His photos of the route follow.
Pat avoided climbing the 20-foot crack. He reports:  "I did not do the 20-foot crack.  That crack is nearly vertical and begins 30 feet above a sloping ledge. A fall from it would be fatal. I opted for the easier white slab to the right."
Southwest Face, Class 3 by Brett Sergenian 
At the end of the road, I decided to head uphill to the cliff bands and then sidehill my way onto the Southwest Slopes. I soon realized that I probably should have attempted Mount Corruption a couple of weeks earlier as there was barely any snow. Most of the first 3,000 vertical  feet was on loose scree as most of the snow was gone. After having enough of the scree, I decided to climb the cliff bands. Luckily, the cliff bands were not terribly steep, so it was doable with only using my right hand for support. To the left was more scree which I planned to take on the descent.  After 4 long hours, I finally reached the summit after slowly navigating the cliff bands. It was slow going on the way down, as I could not swiftly head downhill on the scree and through a few cliff bands.
——————————————————————————————————————
Finally, a few photos of this beautiful peak.
Mountain Range: Lost River Range
First Ascent Information:
First Ascent Year:

1992

Season:

Summer

Route:

Southwest Face

Party:

Rick Baugher
Other First Ascent:

Northwest Gully/North Ridg

Year:

1992

Season:

Fall

Party:

Tom Lopez and Dana Hansen
Longitude: -113.6705 Latitude: 44.11443
Share this post ...