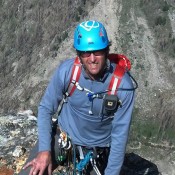 Pat McGrane grew up in Colorado where he climbed and bouldered extensively. During the 1970s and 1980s, he did many hard technical ascents including new rock climbs, Winter alpine routes and big walls primarily in the Fort Collins, Rocky Mountain National Park and Yosemite areas. After the birth of his sons, he quit climbing entirely for 15 years to focus on parenting. Now retired and living in Boise, Pat has returned to rock and alpine climbing. He spends much of his time exploring the crags and high peaks of Central Idaho.
Pat's favorite mountain range is the Pioneers, where he continues to find challenging technical routes. He has contributed his knowledge to this site and provided a great service to our climbing community by writing a climbing guide to the fantastic peaks surrounding the Wildhorse Creek drainage in the Pioneer Mountains. His Wildhorse Classics guide demonstrates that the Pioneer Mountains deserve equal billing with the Sawtooths when discussing Idaho's best technical alpine climbing. Pat's guide is a big file (46 pages with lots of photos) so give it a bit of time to load.
Pat has climbed many difficult mixed snow and rock routes in the Lost River Range. His article on his 2007 traverse of the Lost River Crest from Mount Borah to No Regret Peak entitled The High Route to No Regret Peak  is a must read for all Idaho climbers. We look forward to reading about his many audacious routes and traverses in future articles.