Elevation: 10,158 ft
Prominence: 778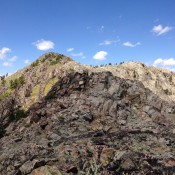 This peak is not in the book.
---
Peak 10158 is located on the main Smoky Mountain Crest between Camas County High Point and Prairie Creek Peak. Specifically, it is 2.5 miles WNW of Norton Peak. The recommended name is Shadow Peak. USGS Galena
Dan Robbins told me about the peak and said "even Rick Baugher has not recorded an ascent of this peak." Dan suggested that the peak was potentially unclimbed and we did not find evidence of prior occupation. Dan suggested we climb the peak from Prairie Creek and we did so on August 17, 2014. We did a traverse of the peak. We climbed the Peak's Southeast Rib and descended the headwall between the peak and Point 10092. Both routes will give you a strenuous workout. Both ponds shown on the peak's east side were dry. The climbing team was Dan Robbins, John Fadgen, Tamara Fadgen, Shadow, their dog, Tom Cox, Steve Weston and myself.
Total distance was 10.36 miles with an elevation gain of 3,305 feet.
Southeast Rib Route, Class 2-3
The ascent route follows Prairie Creek for 3.64 miles and then climbs in a WNW direction up steep grass and tree-covered slopes to a rib that climbs up to the crest roughly 2.5 miles south of the summit. The climb up the ridge can made directly with Class 3 moves or indirectly over mostly Class 2 terrain.
Headwall Route, Class 2-3
This route descends north off the summit to the col between the peak and Point 10092. The peak's North Ridge is festooned with several spires that can be bypassed or climbed over. The difficulty of the traverse will depend on your choice of route. It can be done at Class 2 with some difficulty. There are some steep tricky moves either way. If you want to climb this route, leave the trail at 2.55 miles from the trailhead and climb directly up to the drainage. You should find running water a couple of hundred yards above the trail. The water did not reach the trail. We descended on the right side of this stream until the drainage to the Lake 9011 turns off to the west. The creek continues up to the north and does not lead to the dry lake.
Head to the northern side of the col and then descend down and to the northeast. See photos below. The headwall is steep and cliffy; a direct descent would be dangerous.
Once you are off the headwall you can descend the steep talus to the lake (dry this year) and then follow the drainage from the lake out to the trail. Choose the route that works best for your temperament.
Mountain Range: Smoky Mountains
First Ascent Information:
First Ascent Year:

2014

Season:

Summer

Route:

Southeast Rib

Party:

Dan Robbins, John Fadgen, Tamara Fadgen, Tom Cox, Tom Lopez
Longitude: -114.6953 Latitude: 43.7775
Share this post ...