Elevation: 8,156 ft
Prominence: 336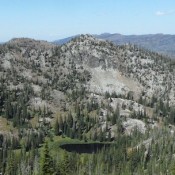 This peak is not in the book.
---
This attractive Payette National Forest peak sits directly south of Hard Peak and Grassy Mountain Lakes to the north and Grass Mountains High Point and Frog Lake to the south.
The peak's granite-encrusted north face drops precipitously to the Grassy Mountain Lakes. The peak can be most easily accessed from the trail that crosses the Grass Mountains crest, between it and Hard Peak.
The Hazard Lake USGS Quad shows a trail leading from the Hazard Lake Road to the crest and a second trail leading from the pass to Frog Lake. While the trail to the crest is in great shape, the trail to Frog Lake has not been maintained in years. For more information on road and trail access, see the Hard Peak page or [(B)(1)(b)] on page 134 of the Climbing Guide.
From the pass, follow the ridge south across broken granite slabs and a scattering of trees toward the peak's west ridge. You will likely spot remnants of the Frog Lake trail along the way but these are not very useful. As you approach the west ridge, you can veer left or southeast up a forest slope to the summit ridge. Follow the summit ridge, dodging obstacles to the summit.
My group descended the peak's east ridge and eventually ended up at upper Grassy Mountain Lake. The route we followed had a few Class 3 spots, but these were easily covered by my friend's dog.
This peak is one of five peaks that can be accessed from the trail. The other four are Serene Peak, Hard Peak, the Grass Mountain High Point (Peak 8180) and Peak 8071.
Use the link below for John Platt's trip report for additional information.
Class 2+
USGS Topo: Hazard Lake
Mountain Range: Western Salmon River Mountains
Longitude: -116.19669 Latitude: 45.16359
Share this post ...