Elevation: 9,571 ft
Prominence: 1,691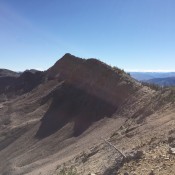 Climbing and access information for this peak is found on page 122. Updated and more detailed information is set out below. Published 2015
---
Red Peak Benchmark is the highest summit found in a large, remote area east of Yellow Pine, Idaho and west of the Middle Fork Salmon River. The peak sits on a ridge line between Murphy Peak and Red Peak.The view from the top is endless and includes the Lick Creek Range, Big Baldy Peak, Pinnacles Peak, the Sawtooths and White Clouds and North and South Twins as well as everything in between.
Before, I discuss the route here is some information on names in this area. On page 122 I discussed two Red Peaks which are found on a ridge line running south from Murphy Peak. The map makers evidently had the name "Red" tattooed on their minds when they named features in this area. The name Red Peak was given to a peak just south of the higher peak identified by the map makers as Red Peak Benchmark and the name Red Ridge was a name given to an adjacent ridge that runs east from Red Peak Benchmark. Red Ridge contains two notable unnamed peaks and just south of Red Peak there are two more worthy summits. Interestingly, none of these peaks look red to me. Anyway, on to climbing this beautiful peak.
When I wrote the book, the only information I had on these peaks was that the peaks were remote, that hunters often hunted mountain goats along these ridges and that the ridge was walkable. I was fascinated by this region because of its remoteness and the duplication of peak names. Despite my curiosity, I did not make it to this area until October, 2015.
John Platt and I climbed Red Peak in 2015 by first climbing Murphy Peak and then traversing the long ridge to Red Peak Benchmark. This involved a one way trip of 5.4 miles with 2,700 feet of elevation gain and 1,300 feet of loss. The route drops steeply off of Murphy Peak and then ungulates up and around several high points before it begins a long stair step climb to the summit. It's a strenuous traverse but not difficult.
We had hoped to also climb Red Peak but found it was too far away given the shortness of October days. Having climbed Murphy Peak on the way out, we decided to bypass it on the return trip. We followed the ridge back to the base of Murphy and then traversed across its southern sloes to a saddle which sits just above the Thunder Mountain Road. This route was 4.0 miles long, lost 1,778 feet and gained 384 feet. Clearly, if you are not interested in climbing Murphy Peak, this is the best way to Red Peak Benchmark. The traverse was a bit over a mile long and only gained around 200 feet. The footing varied and was at it's most treacherous the last 200 yards before the saddle.
Mountain Range: Central Salmon River Mountains
Longitude: -115.20789 Latitude: 44.86729
Share this post ...