Elevation: 11,972 ft
Prominence: 272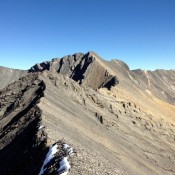 This peak is found on page 278.
Also see Wes Collin's article on The Lost River Traverse in the Climbing History section.
---
No Regret Peak is located in the Lost River Mountain Range in the Challis National Forest. It is located northeast of Donaldson Peak and northwest of Mount Breitenbach. No Regret Peak is seldom climbed as it does not have 300 feet of elevation change between it and its neighbor peaks; thus, it has has been ignored by those seeking to climb all of Idaho's 11ers.
I know that Rick Baugher, Chuck Ferguson, Wes Collins, and Margo Mandella have climbed it (see trip reports below). Wes Collins and at least four other climbers climbed No Regret while traversing the Lost River Range crest between 12ers. For them, No Regret was simply an obstacle to pass over on the traverse. Margo Mandella and her climbing partner climbed the peak from its southeast face. Undoubtedly, a few others have reached its highest point and numerous others have tried.
Given the difficulties in reaching this summit, I consider it to be one of the best prizes for Idaho climbers. The fact that the ridge to Breitenbach only drops 272 feet is irrelevant. This is a great peak!
My Experiences
I have tried to reach this summit on three different occasions. I have tried it twice from Donaldson Peak and ran out of time. I tried to traverse over from Mount Breitenbach and found the route blocked by cliffs. And, I have tried it from Jones Creek, but ran out of time and ambition. It's the highest Idaho peak that I have yet to climb.
Additionally, I have crossed half of the ridge reaching the high point between the two peaks. When I asked Wes Collins about the ridge, he indicated it was not a nice ridge walk. In the half of the ridge that I crossed, I found the obstacles were not difficult, but the last half of the ridge is more complicated. It looked like it would be very time consuming and require me to drop down off the ridge in places.
Down climbing Donaldson Peak's northeast ridge is not the easiest task, as the upper ridge is comprised of steep slabs covered by loose scree. It's a Class 3 descent that requires some care.
Based on my past experience, and discussions with others, I believe the best way to summit the peak is via Jones Creek and the southeast face. Start early. If you can hit the route just right, the water level in Jones Creek should be low, and there should still be some snow in the upper basin to ascend. Be aware that Jones Creek is a difficult drainage to traverse and that upper basin is very unstable.
Class 3
USGS Topo: Leatherman Peak
---
Trip Reports
Wes Collins
See Wes Collins article on his traverse of the range from Borah to Lost River Mountain.
Rick Baugher and Chuck Ferguson
Rick Baugher and Chuck Ferguson missed a first ascent on this peak as they found a small cairn on the summit. Here are Rick's notes from his climb:
With Chuck and David Ferguson drove to mouth of Jones Creek. As usual, rubbly stream bed required many crossings. Running shoes worked well for this. At around 9500 ft there appears to be perennial snow. In this steep, narrow gully the snow is covered and protected by a rockfall cover. Continue up into cirque, over and around small cliff bands, then up ledge. Short scramble on west ridge to summit No Regret Peak 11,972 ft. We found a small cairn in place, but no register. Didn't appear old. Left our register. Windy as usual. Descended same way. Found good brachiopod fossils in the Paleozoic limestone of upper cirque.
Margo Mandella
Margo Mandella and her climbing partner actually summited this peak in error. They were attempting to climb Breitenbach. Instead, from Pete Creek, they "climbed toward the saddle to the northwest," as it says in the Climbing Guide, but too soon (i.e., northeast of peak 10039) and ended up in Jones Creek drainage. From there, they continued to the No Regret's south face and climbed the very steep and extremely loose scree, working their way up to a notch, which is next to the summit. While Margo rested at the notch, her partner had retrieved and opened the summit register to find a piece of paper with "No Regret Peak" written on it. He said, "You're not going to believe this…."
As Margo recalls: I remember wondering at one time if we were in the right place, but my partner seemed pretty confident, and we hadn't had any route issues on our other climbs. We were climbing the 12ers in the late 90s/early 2000s and for the most part, we would read the book and have the route in our heads. There were no handheld GPS or cell phones, just maps. But we were pretty comfortable in the Lost Rivers as most routes were from the south, used ridges and were pretty straight forward, so generally we would not carry a map. However, we would scout the access ahead of time as most of the 12ers we would start climbing in the dark.
Margo continues, I do remember the climb up the face like it was yesterday…that was the most difficult scrambling I have ever done. It was like a deep sea of moving scree and we just kept climbing, rather crawling, the entire time, trying to reach any rock that might stay put for just a second until we moved again. It was nothing short of arduous and I remember we were out a very long time that day. After the shock of discovering we were on the wrong peak, and an epic scree-ski back down the face, we spent the way down trying to figure out what we had done wrong. We suspected it was probably the premature saddle, which we verified when we got back to the car and re-read the Climbing Guide directions. 
Mountain Range: Lost River Range
Longitude: -113.68819 Latitude: 44.07069
Share this post ...