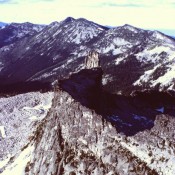 The Selkirk Mountains are discussed on Pages 35-49 of the book.
---
The Selkirk mountains begin on Mica Peak (west of Coeur d'Alene, Idaho) and extend north, paralleling the Idaho/Washington border for more than 100 miles, into Canada. This mountain range, which is up to 30 miles wide, surrounds the Priest Lake Basin. The Selkirk peaks are formed of granite from the Kaniksu Batholith and Spokane Dome granite and Precambrian rocks from the Belt Supergroup series. The name "Kaniksu Range" is sometimes used to identify the mountains west of the Priest Lakes. The central crest is sometimes known as the "Priest Range."
The Idaho Selkirk Mountains are a complex range with significant valley-to-summit elevation gains, rugged canyons and deep forests. The terrain was shaped by glacial action which molded the granite into an exceptional mountainous land. Unfortunately, due to land ownership patterns (discussed in the book), access can be difficult. Nevertheless, failing to spend time exploring this range will deprive climbers of a uniquely Idaho experience.
Chimney Rock is the best known Idaho Selkirk peak, but there are lot of other peaks worth your attention like Harrison Peak and Lions Head. Check out the book for additional information. Click on this link for information on the The Long Canyon-Selkirk Crest roadless area. Use this link to see a list of all Selkirk Mountains peaks found on this website: Selkirk Mountains Peaks. There is a newer guidebook covering a number of Idaho Selkirk Peaks: Climber's Guide to North Idaho and the Cabinet Wilderness By Thaddeus Laird
Mountain Range: Selkirk Mountains
Photos: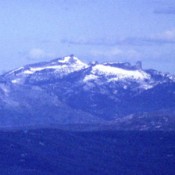 Share this post ...