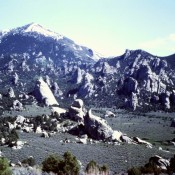 The Albion Range extends 25 miles north from the Idaho/Utah border to a point just south east of Burley. The range varies in width from 10 to 25 miles and includes a parallel southwestern ridgeline named Middle Mountain, and an eastern ridgeline known both as the Malta Range and the Cotterell Mountains. On the main Albion crest, Cache Peak reaches an elevation of 10,339 feet, making it not only the highest Albion peak but also the highest point in Idaho south of the Snake River. Other notable peaks include Mount Independence and Mount Harrison.
The south end of the range is the home off City or Rocks, Idaho's premier rock climbing mecca.
Mountain Range: Albion Range
Share this post ...