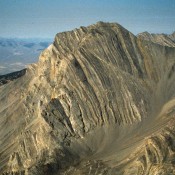 This peak is found on page 278.
---
One of nine Idaho 12ers, Donaldson Peak is the eight highest peak in the state. It is an impressive summit with a long approach and a steep, rotten head wall to climb. I recently climbed the peak a second time. The traditional approach was via Jones Creek. [(B)(10)]  Jones Creek is a rugged, unstable drainage which seem to change every year as the spring run off and healthy vegetation constantly changed the stream bottom and erode the climbers' trail. Climbers have established a new approach in the next drainage to the north which is some times called the North Fork Jones Creek. The peak is most often climbed in conjunction with an ascent of Mount Church.
---
North Fork Jones Creek Approach.
This approach is reached via Lone Cedar Creek. [(B)(9)]. See the map below. From the end of the road a good trail leads toward the mouth of the canyon. Once in the canyon, the trail tread is marked and, for the most part, easy to follow. Occasionally, it crosses the intermittent stream and at these spots you might need to look for a cairn to get you back on the tread. Once you get above treeline the choice which way to proceed is up to you. The route to the pond at the base of the headwall is obvious.
---
Donaldson Peak is most often climbed via the Church-Donaldson headwall but can also be climbed via the ridges connecting it with its two neighbors, Mount Church and No Regret Peak.
North East Ridge Route. Class 3.
Donaldson's NE ridge climbs 400 feet of steep terrain from the ridge connecting the peak to No Regret Peak. I descended and then climbed this ridge with Andrew Chiles and Mark Jones while attempting to climb over to No Regret. The ridge is composed of steep slabs, mostly covered with loose scree and it takes a little time to navigate up the lower sections.
Mountain Range: Lost River Range
First Ascent Information:
Other First Ascent:

First Winter ascent via west face and south ridge.

Year:

1975

Season:

Winter

Party:

W. March and R. Albano
Longitude: -113.70049 Latitude: 44.06401
Share this post ...